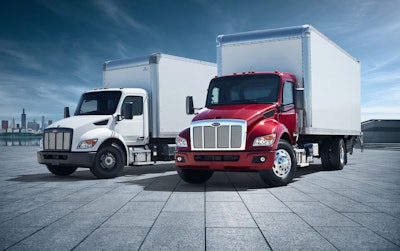 Peterbilt first entered the medium-duty segment in 1995 with its Model 330 and came out of the gate with less than 2% marketshare by year end. The company now boasts five models (including a refuse model), and 25 years later has increased its segment marketshare more than five-fold.
On Wednesday, Peterbilt gave its medium-duty line a makeover with four new models.
Designed for Class 5 and Class 6 non-CDL lease and rental markets, the Model 535 and Model 536 were born from a clean sheet design and through a development program that took five years.
The trucks' robotically-assembled aluminum cab is 8-inches wider than the previous generation cab and has room for three adults to sit. It features a floor height of 40.5-inches and a roof height of 74-inches.
Peterbilt Medium-Duty Segment Manager Phil Hall noted the cab was designed to sit three inches lower to improve ingress and egress while stair-style steps and knurled grab handles boost safety.
[Related: Peterbilt confident in restyled Model 579]
Side mirrors are mounted to the cab to improve wire routing. All-new self-closing doors feature larger windows for better visibility, three opening positions and a new triple seal to cut down cabin noise. With Bumper to Back of Cab (BBC) measurements of 107- or 109-inches, the trucks offer a turning radius of 51 feet.
Options available on the Model 535 and Model 536 include two hood lengths, two roof heights, composite and steel bumpers, as well as multiple fuel and DEF tanks.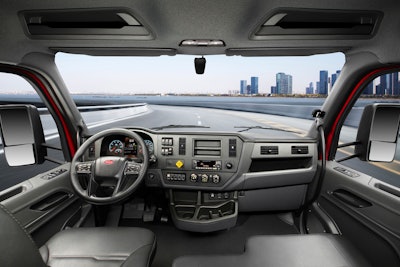 Inside, fleets can spec high- or low-back seats in cloth or vinyl.
There's 4.6 cubic feet of overhead storage space.
The dash layout of the Model 535 and Model 536 is customizable by application with available space for optional gauges, switches and ram mounts.
Centered in front of the driver – affixed between an analog speedometer and tachometer – is the vocational segment's largest high-resolution 7-inch digital display. Drivers can toggle through pre-loaded menu cards and customize preferences utilizing the new multi-function steering wheel and display navigation knob. The digital display is integrated with the trucks ADAS system (collision mitigation, lane departure warning) as well as the TPMS system. Other functions include a system check and trip summary.
Class 7 and Class 8
The all-new Model 537 (Class 7) and Model 548 (light Class 8) were built on a new customizable chassis with a multiplex electrical architecture that enables seamless body builder integration. Two hood options are available – a vocational three-piece Metton hood featuring a stationary grille with full through rail, and a three-piece SMC aero hood for maximum visibility. Both hood options can use a variety of vocational and front-engine power takeoff (FEPTO) bumpers to accommodate various applications. The bumper is front-mounted to the chassis with a drop-and-go feature for self-locating. Bumper options include chrome or painted finish, three bumper light mounted options (headlight, daytime running lights or fog), two radar options, two tow options (two tow loops or center tow), and two license plate mounting locations (center or offset).
[Related: Kenworth intros all new medium-duty lineup with lower]
Wide or standard track axles feature deep wheel cut angles for a shorter turning radius and mono-leaf or taper-leaf front springs rated from 8,000 up to 20,000-pounds. The rear suspension is available with a taper-leaf or air-leaf suspension rated from 12,500 to 40,000-pounds depending on a single- or tandem-drive configuration. An all wheel drive option features a new offset bowl design to offer the lowest possible cab height.
The heavier end of the lineup features the same 2.1 meter cab as its lighter siblings with seating for up to three; the same ingress and egress and ergonomic improvements; overhead storage capacity and dash and instrumentation capabilities.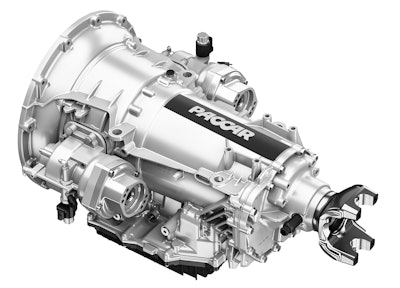 New Paccar transmission
All four new models will be equipped with Paccar's new TX-8 automatic transmission and updated Paccar PX engines.
The TX-8 automatic transmission monitors changes in road grade, vehicle acceleration, torque demand, weight and engine load to keep the truck in the most fuel-efficient gear with up to 5% better fuel economy.
The new gear box also features the Auto Park Lock system, a safety feature that automatically engages the park lock should the driver forget. A Twin Torsional Damper enables early first gear lock-up for smoother shifts and faster acceleration and the mechatronic unit and Transmission Control Unit are combined into one unit within the oil pan for ease of service.
PX engines for the new models get longer oil and fuel filter service intervals and fuel economy improvements. The updated PX-9 also sees higher torque ratings in the 260, 350 and 360 horsepower versions, as well as a lower torque drop-off speed.