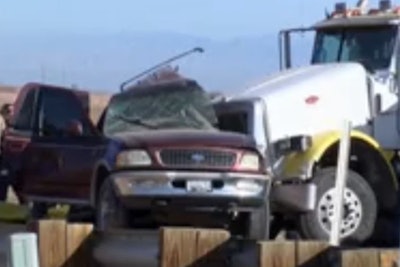 An illegal immigrant smuggling operation left 13 people dead after the SUV they were traveling in crashed into a gravel truck in Southern California near the U.S.-Mexican border.
According to the California Highway Patrol a Ford Expedition carrying 25 people was stopped at an intersection Tuesday morning along State Route 115 in a rural area near El Centro when for unknown reasons the SUV pulled into the path of 2011 Peterbilt hauling two gravel trailers.
The collision left 12 of the SUV occupants dead at the scene while another later died from severe injuries. Twelve others were taken to various hospitals for treatment. The truck driver, a 68-year-old man with Havens and Sons Trucking, was taken to the hospital with moderate injuries. He had been traveling empty at the time of the collision.
The SUV and another vehicle had entered the U.S. from Mexico through a hole in a fence along the border according to the Associated Press. Both vehicles were thought to be "part of a migrant smuggling operation." The whereabouts of the other vehicle have not been reported.
Note: This story has been updated from an initial law enforcement report stating that 14 of the SUV occupants had been killed and that there had been a total of 26 people in the SUV.