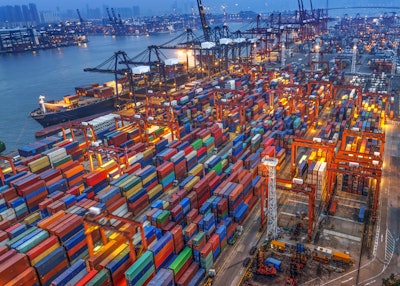 The deadly coronavirus outbreak that began in Wuhan, China, in December (and has since infected more than 28,000 people and killed more than 560) could have a significant impact on freight volume entering the United States from China.
The extent of the virus' impact on the supply chain is still unknown, but experts say the normally soft first quarter for Chinese imports to the U.S. will be even softer this year.
Wuhan, in China's Hubei Province, is a major industrial and transport hub in central China along the Yangtze River. According to a report from DHL's Resilience360, Wuhan is a hub for high-tech industries, including chip fabrication plants that make flash memory used in smartphones and computers. The city is also known as China's "motor city," the report states, due to a large manufacturing presence of domestic and foreign car makers and global auto parts suppliers.
The pneumonia-like coronavirus began to spread in December, prompting the World Health Organization to declare the virus outbreak a global health emergency on Jan. 30. The U.S. followed suit the next day and declared its own public health emergency.
DHL's report says authorities in Wuhan put the city on lockdown beginning Jan. 23, barring non-emergency vehicles from entering and exiting the city. The report adds that "severe disruptions to inbound and outbound air cargo shipments, trucking and rail cargo services, as well as heavy port congestions for vessels along the Yangtze River near Wuhan will likely persist as the coronavirus crisis unfolds."
One bit of silver lining for shippers, and in turn trucking companies in the U.S. that distribute imported freight from China from ports, is that the Wuhan lockdown began at the start of the Lunar New Year celebration, which is normally a week-long holiday for Chinese citizens and businesses when all manufacturing is shut down anyway.
The normal holiday period was scheduled from Jan. 24-30, and that was extended through Feb. 2 for most of China. It was extended through Feb. 9 for some larger municipalities and provinces, and through Feb. 13 for Hubei Province, including Wuhan.
One factor that is still unknown, says Neel Jones Shah, executive vice president and global head of airfreight for Flexport, is once Chinese factories do reopen for production, how many workers will come back to work from their hometowns. After a typical Lunar New Year holiday, about 10-15% of workers don't come back to work for various reasons, says Shah. With the virus outbreak, he says more workers could decide to stay home in a safer environment, further delaying production getting back up to speed at factories.
DAT Solutions said in a statement to CCJ the impact of the normal slowdown in imports on the West Coast due to the Lunar New Year holiday is "typically felt in the U.S. through the end of February."
The effects of the extended holiday due to the virus are still unknown, DAT adds.
"The short-term effect on U.S. imports and spot truckload freight, especially at West Coast ports, depends on whether governments take more aggressive steps to curtail commercial traffic from Wuhan and elsewhere," DAT says. "Current conditions – including the Chinese central government's decision to extend the holidays – make it more likely that the current lull in traffic at U.S. ports will last into March, which is longer than usual."
DHL's Resilience360 report notes that shippers and others in the supply chain already plan for the Lunar New Year holiday break, and during normal years, post-holiday operations would have returned to normal across China between Feb. 15 and Feb. 21.
Paul Sanfield, director of media relations with the Port of Los Angeles, says it will "take several weeks for Chinese factories to ramp up production and begin getting cargo on vessels bound for the U.S."
"We expect to see a slowdown in cargo the first several months of 2020 on the import side," Sanfield adds. As for exports, he says it depends on if agriculture exports from the first phase of the China trade deal "take hold." "Coronavirus could have an impact on that, as well," he says. The bottom line, Sanfield says, is that the Port of LA expects softer freight volumes in the first quarter due to the virus outbreak and ongoing trade war between the U.S. and China.
White House economic advisor Larry Kudlow said in an interview with Fox Business that the "export boom" from the first phase of the China trade deal will likely take longer due to the virus outbreak. The deal calls for China to purchase $200 million in U.S. farm goods, energy products and other goods and services over the next two years.