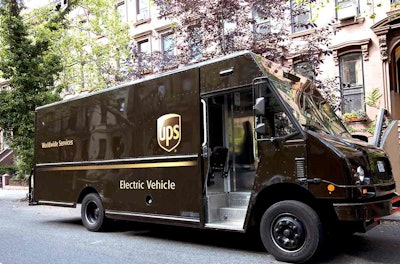 While adding electric vehicles to a fleet line-up may seem like a revolutionary idea, UPS first put battery-powered delivery trucks to work in the 1930s.
So, when the iconic P&D leader talks about fleet electrification, it's certainly a good idea to listen. In this case, UPS recently announced a joint study with GreenBiz which takes a closer look at electric powertrains. Environmental benefits and lower cost of ownership are making EVs more attractive, but challenges remain.
In the "Curve Ahead: The Future of Fleet Electrification" report, industry leaders identify the main motivations and barriers to electrification, as well as strategies to move the commercial electric vehicle market from niche to mainstream.
The top motivation to go electric for 83 percent of large businesses surveyed is sustainability and environmental goals. A lower total cost of ownership – factoring in both direct and indirect costs and savings over the life of the vehicle – is the second biggest driver, cited by 64 percent of respondents. In addition to the fuel savings, EVs typically require less maintenance than traditional internal combustion engine vehicles, which means lower maintenance costs.
Despite an appetite for electrification, many fleet operators face challenges. Fifty-five percent of respondents cited the initial purchase price of electric commercial vehicles as the top barrier. Forty-four percent view inadequate onsite charging infrastructure as a barrier and 92 percent advise their facility is not "very well equipped" to accommodate commercial charging needs. Yet the study also found less than half of the companies surveyed are working with governments or utilities to address charging infrastructure.
"The challenges of cost and infrastructure requirements can be daunting, but we've begun to see solutions emerge," said Scott Phillippi, UPS senior director of automotive maintenance and engineering. "In the U.S., we recently ordered 50 electric-powered delivery trucks that we anticipate will be at cost parity with conventional diesel-powered vehicles. And in London, we were able to find a solution for our charging needs through a collaboration between government and private organizations. The business case, combined with growing preference for EVs from cities and national governments, will help us to reach a tipping point to large-scale EV fleet adoption."
Fleet managers and industry experts interviewed suggested strategies to overcome such challenges, including starting small. Instead of undertaking a large-scale fleet overhaul, many companies will prioritize electric options when replacing vehicles and even consider electric leasing options to mitigate the initial purchase price. Converting from internal combustion engines to electric depends on specific vehicle uses, the size and distribution of fleets across regions, the costs of electricity and access to charging infrastructure.
"Despite the complexity of transitioning commercial fleets to an electric future, the vehicle technologies and options to upgrade infrastructure are quickly improving," said Paul Carp, GreenBiz Group's director of research and senior analyst. "Continued industry collaboration will be critical to accelerate fleet electrification across a wide range of use cases."
As the market for electric commercial vehicles matures, 70 percent of companies report working closely with vehicle manufacturers and suppliers to identify the latest electric vehicle technologies and features. This communication is important given 32 percent of survey respondents cited inadequate product availability as a barrier.
UPS is working with commercial vehicle manufacturers such as ARRIVAL, Tesla, Thor Trucks and Workhorse, providing data and performance feedback to help foster product availability and create fleet solutions that fit its unique needs.
UPS also works with manufacturers, governments and utilities to leverage innovative technology, such as smart grid charging in London that enables the company's electric-vehicle fleet to charge without an expensive power supply grid update. The project, made possible by engaging UK Power Networks, Cross River Partnership and UK's Office for Low Emissions Vehicles, is an example of how collaboration can overcome vehicle electrification barriers.
Research findings were explored in depth at the GreenBiz VERGE conference in Oakland, Calif. in October. To download the white paper, visit ups.com/sustainability.
The 2018 UPS and GreenBiz "Curve Ahead: The Future of Fleet Electrification" study presents the findings of qualitative research, along with an online survey conducted by GreenBiz Group in June 2018 among more than 200 respondents within the GreenBiz Intelligence Panel.
UPS has a long history with electric vehicles, having first introduced them into its U.S. fleet in the 1930s. UPS now has more than 1,000 electric and hybrid electric vehicles deployed worldwide.
The company's fleet of approximately 9,300 alternative fuel and advanced technology vehicles now drives more than 1 million miles each day.
Since 2008, the company has invested over $1 billion in alternative fuel and advanced technology vehicles and infrastructure. This strategic investment redirects a purchase that would normally support the acquisition of a diesel or gas-powered vehicle to an alternative fuel vehicle.
UPS has committed that by 2020, 25 percent of annual vehicle purchases will be alternative fuel or advanced technology vehicles. This shift toward alternative fuel vehicles and the infrastructure that supports them has helped UPS to drive the electric vehicle market to cost parity with conventional fuel vehicles, while also realizing both fuel and maintenance cost savings.