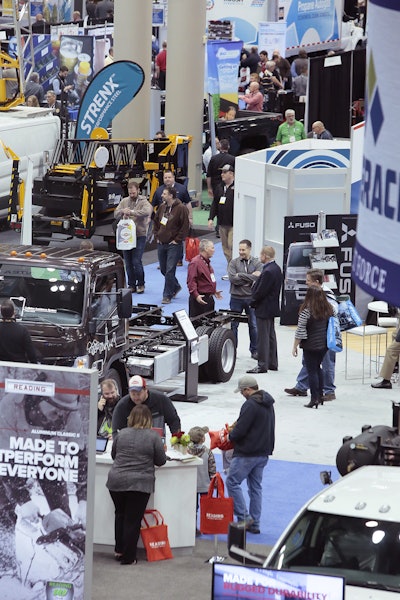 A record number of commercial vehicle manufacturers will be exhibiting at The Work Truck Show 2019.
Volvo Trucks is the latest OEM to join the largest work truck show in North America. Other manufacturers for 2019 include Chevrolet Commercial Vehicles, Ford Commercial Vehicles, Freightliner Custom Chassis Corporation, Freightliner Trucks, Hino Trucks, International Truck, Isuzu Commercial Truck of America Inc., Kenworth Truck Company, Mack Trucks Inc., Mercedes-Benz Vans, Mitsubishi Fuso Truck of America Inc., Nissan Commercial Vehicles, Peterbilt Motors Company, Ram Commercial and Western Star Trucks, with 15 of them also providing exclusive chassis update sessions.
NTEA is also expanding the President's Breakfast speaker lineup at the March show by adding a Canadian Club Reception for companies located in Canada or active in the Canadian market.
The President's Breakfast will also include a "Conversation with the Mannings," featuring Super Bowl-winning quarterback and NFL MVP Peyton Manning and his father, All-American quarterback and NFL icon Archie Manning. They will discuss various topics in a Q&A format moderated by Craig Bonham, first vice chairman of NTEA's Board of Directors. Jeffrey Gitomer, a creative, on-the-edge writer and speaker, will serve as keynote speaker at the Breakfast. He will talk about the importance of increasing customer loyalty and satisfaction.
Registration is required to attend President's Breakfast, which is sponsored by Ford Commercial Vehicles. This event is not included in any registration package — it is available for purchase separately.
The show will also feature a new Canadian Club Reception on March 7 from 5–6 p.m. at Indiana Convention Center. The event is open to NTEA members based in Canada and designed to celebrate the organization's growing Canadian membership. It features networking opportunities and a chance to indulge in classic Canadian fare. This reception is free, but attendees are asked to register in advance by adding it to their Show registration or emailing [email protected].
The Work Truck Show 2019 will take place Tuesday, March 5 through Friday, March 8, 2019 at the Indiana Convention Center in Indianapolis. Educational sessions, Fleet Technical Congress, Green Truck Summit, and Manufacturer and Distributor Innovation Conference begin March 5, and the exhibit hall is open March 6–8.