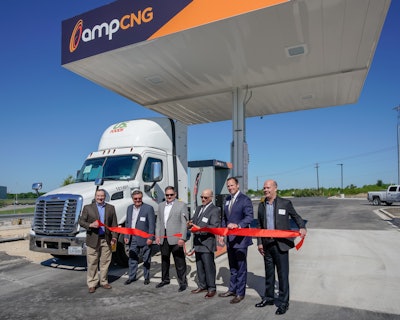 The Renewable Natural Gas (RNG) industry continues to grow at a rapid pace.
At its recent annual conference in Dana Point, Calif. the Coalition for Renewable Natural Gas reported that the industry surpassed 85 RNG production facilities in North America, up from the 41 facilities built between 1982 and 2014. Membership in the coalition has shot up from eight members in 2011 to 150 in 2018.
"Our industry is growing rapidly, and we've only begun to tap the remarkable opportunity to produce transportation fuel from waste on dairy farms across the country. Converting dairy waste into transportation fuel reduces greenhouse gas emissions by more than 100 percent when compared to diesel, improves air quality and sustainability, improves farm profitability, creates well-paying rural jobs, and saves fleets money," said Grant Zimmerman, CEO of Amp Americas. "Amp's facilities in Indiana are producing at a rate of over 4 million diesel gallon equivalents of RNG per year, and we're excited to be working on projects that will continue to grow our production in 2019, 2020 and beyond."
Renewable natural gas is obtained from converting renewable organic waste into drop-in, substitute, pipeline-quality natural gas. New RNG production facilities include:
Amsterdam, OH – Air Liquide & Montauk Energy
Angleton, TX – DTE Biomass Energy & Morrow Renewables
Humble, TX – Air Liquide, Montauk Energy & Waste Management
Jasper, IN – Amp Americas
Perris, CA – Greenlane Biogas & SoCalGas
Roosevelt, WA – Klickitat Public Utility District & Morrow Renewables
SE Oklahoma City, OK – Aria Energy & Republic Services
Walnut, MS – Air Liquide & Vilter Manufacturing
"The opening of new biomethane facilities in the U.S. helps further enable the transformation to meet changing energy needs of the future and supports a growing economy with sustainable solutions for reducing carbon and GHGs," said Chet Benham, CEO of Air Liquide Advanced Technologies US. "Air Liquide's ability to participate in the entire biogas value chain, from production to distribution, positions us to well support the growth of this important industry and help provide customers and communities with greater access to reliable sustainable energies."
Waste Management continues to use RNG throughout its nationwide fleet of refuse haulers.
"Waste Management is proud and excited to be part of the continued growth of the renewable natural gas industry," said Randy Beck, senior director at Waste Management. "For us, RNG is an optimal drop-in fuel solution for the trucks that service our customers every day, nationwide. Public awareness and reception to Waste Management's sustainable approach using RNG to service our communities has been increasingly positive."