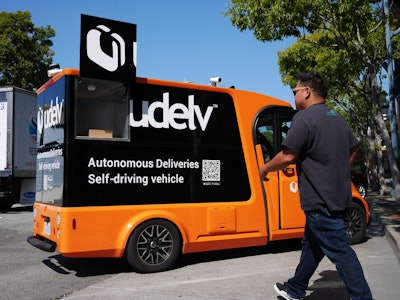 The EV march into the commercial sector continues as California start-up Udelv prepares to roll-out autonomous delivery vans (ADV) in Houston, Texas.
Udelv recently announced a deal with Texas-based auto parts distributor XL Parts to provide up to 10 self-driving electric vans with the first one scheduled for delivery during the first half of 2019.
"XL Parts is one of America's forward-thinking parts distributors looking at how they can provide outstanding customer service to their clients by embracing new technology and looking for cost-effective methods of delivery," Udelv CEO Daniel Laury said.
"Now more than ever, retailers know to be competitive they need to stay ahead of the curve," Laury continued. "XL Parts is leading the way, particularly in Texas where this project will be the first and largest of its kind in this industry."
The ADVs have a payload capacity of 1,300 lbs. and a range of up to 400 miles. The trial will begin with the first van being delivered towards the end of the first half of 2019 with up to nine additional vans to follow.
All of Udelv's autonomous vans will operate with safety drivers during the trial until both companies and regulators approve of their use for driverless operation.
"In Houston alone, we deliver well over 10,000 automotive parts to professional automotive service and repair shops every day and most of the time we do it in about 30 minutes," said Mike Odell, president and CEO of XL Parts. "To do that requires millions of parts in stock, precise timing, hundreds of vehicles, and a large investment in technology. To remain the leader in our markets we are constantly exploring the latest developments for our business and for our customers' businesses. This investment with Udelv in autonomous delivery vehicles allows us to advance our business and to understand the future of our industry at the same time."
In September, Udelv announced an ADV deal with a grocery store chain in Oklahoma. The first autonomous van for the Buy for Less Grocery Company is expected to be delivered during the first quarter of 2019 with nine more to follow. Udelv's expanding reach into the growing P&D segment follows a successful start in Northern California.
"At Udelv, we've tested and proven our ability to successfully and safely make deliveries for American businesses," Laury said. "We've conducted over 1,000 deliveries on public roads with a safety driver already in the San Francisco Bay Area on behalf of more than a dozen paying clients, and we're ready to bring the same benefits to the Texas community."