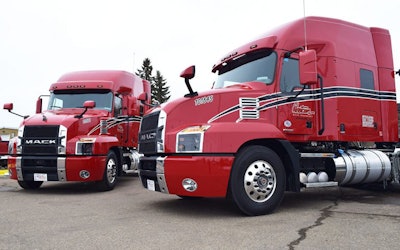 Edmonton, Alberta-based Westcan Bulk Transport, after a roughly 50-truck initial order, will have 12 to 15 new Mack Anthem tractors delivered each week for the next year. The steady stream of new equipment serves a few purposes, says Mike Royer, the company's vice president of fleet services.
One, the company's working to cut its fleet age slightly, from about 5 years down to about 3, he says. Secondly, the company's keen on the fuel economy benefits offered by the all-new Anthem, unveiled by Mack late last year as its new flagship long-haul tractor, taking the place of the Mack Pinnacle axle-back model. The truck entered production early this year, with fuel economy gains over a like-spec'd Pinnacle model predicted to be around three percent — though Mack touts its special aerodynamic/powertrain packages, the high-efficiency (HE) and HE+ packages, as boosting fuel economy savings by 6 percent and 9 percent, respectively, over the Pinnacle.
However, says Royer, one of the company's chief goals is to use the Anthem as a tool for driver recruiting and retention. He pointed to the truck's driver-focused amenities like a quiet cab and storage space. So far, other than applications where the fleet wants to deploy its new Anthems, Westcan is doling out the Anthems to drivers based on seniority and merit, Royer said.
Mack Highway Product Manager Stu Rusolli says, behind fuel economy and aerodynamics, driver comfort was the chief in the design of the Anthem. The company designed the truck's dash to bring the most-used buttons/rockers closest to the driver, even placing the transmission shift pad directly next to the steering wheel. The truck's in-dash infotainment system is also within easy reach. Likewise, Rusolli says, the company designed the Anthem's sleeper for space, storage and utility, offering a space for a refrigerator, TV, microwave and more. Rusolli says the Anthem provides "best-in-class storage."
Westcan runs more than 700 power units, mostly in the western provinces of Canada, though it has expanded its reach eastward in recent years. The fleet operates in some of Canada's toughest conditions, hauling bulk commodities like petroleum, sulfur, chemicals, coal, natural gas, acids and asphalt for blue-chip companies. Costco, Shell, 7-11, Imperial Oil and Agrium are just a few of its high-profile customers.
Royer and Mack's Roy Horton, director of product strategy, touted Mack's reliability and durability as ideal for Canada's often extreme conditions. Westcan's fleet is roughly 80 percent Mack, and 90 percent of its Anthem orders will be equipped with Mack's mDrive automated manual transmission, says Royer.
"Canada is tough. Mack Trucks is tough," Horton said, saying the Anthem provides the "rugged durability that customers need and require — especially here."
The Anthem is available with Mack's 13-liter MP8 engine, with up to 505 horsepower and 1,860 lb.-ft. of torque, and the 11-liter MP7 engine, which offers 425 horsepower and up to 1,560 lb.-ft. of torque. Both are available as part of Mack's integrated drivetrain, which includes the Mack mDrive automated manual transmission.