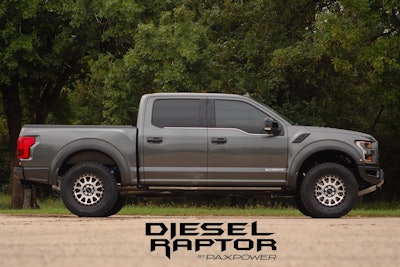 Texas-based performance company PaxPower's latest project gives Ford's King of the Off-Road – F-150 Raptor – a boost of dirt-slinging torque.
The Diesel Raptor uses Ford's 3 liter twin-turbo Power Stroke Diesel and its 550 lb. ft. of torque. Raptor's 3.5-liter twin-turbo EcoBoost V-6 makes about 510 lb. ft.
The Diesel Raptor was born a F-150 Power Stroke before getting PaxPower's OEM Ford Raptor body, suspension and chassis conversion.
The conversion was done using all new Ford OEM parts. The suspension was upgraded to Raptor-spec upper and lower control arms, front axle shafts, steering links, brake lines, sway bar setup, leaf springs, hardware, and, of course, the Fox internal-bypass shocks.
The body conversion includes the entire current model year Raptor front clip: fenders, hood, grilles, trim, flares and accent lighting. The bed is rebuilt with Raptor aluminum inner and outer bed sides, fender flares, and accent lighting and the chassis is finished off with OEM Raptor skid plates.
The Diesel Raptor is upgraded with an engine calibration that raises power to 300 horsepower and 550 foot-pounds of torque – a gain of 80 hp and 130 lb. ft.
As for pricing, each Diesel Raptor build is specific to the customer's taste but can range from a $7,450 Raptor suspension upgrade to fully converted unit for just under $25,000.