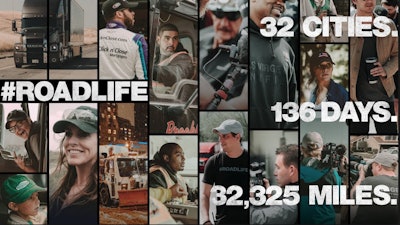 "Breaking the Mold," the fourth episode of Mack Trucks' RoadLife series released today on roadlife.tv and Amazon Prime Video, shares the stories of two women blazing trails in the trucking industry, in which women make up just 12 percent of the workforce.
"I never thought my life would be with trucks," said Raquel Renda, vice president of Fort Worth, Texas-based Renda Environmental, a wastewater residuals management company. "But I fell into it here in Texas, and I've been in love ever since."
Starting her day around 4 a.m. each morning, Renda's responsibilities include keeping the 24/7 operation running smoothly and addressing whatever urgent issues might pop up. Instead of trying to fit the mold created by men in leadership positions, she has spent her career successfully applying her own style of running the business.
"Gender shouldn't matter," Renda said. "It's all about the integrity of the work being done and the integrity of the person doing it."
Professional truck driver "Killer" Bramer has taken a different path to success in the industry by following her dreams from an early age. After graduating as the top student and only female in her driving school class, she bought a truck and spent the next three years learning the ins and outs of the road. She also spent several years driving on tour with folk singer-songwriter Arlo Guthrie, who gave her the nickname "Killer."
"Being a truck driver is not a 9 to 5 job, and it's not for everybody," Bramer said. "I didn't do it because I knew I was breaking the mold, I did it because it's my job and I do it really well."
"Breaking the Mold" is available now on roadlife.tv and Amazon Prime Video. In addition, viewers can access RoadLife bonus content on Mack Trucks' social channels: Facebook, Twitter,Instagram, LinkedIn and YouTube.