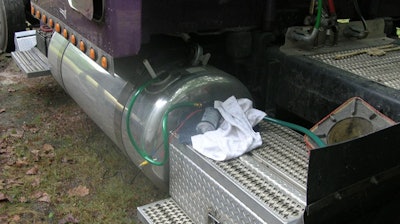 The small town of Linden, N.C. was the site of a large drug bust over the weekend in which $91 million worth of liquid methamphetamine was found inside the fuel tank of a tractor-trailer.
Raul Topete Arreola, 49, and Aquileo Perez Pineda, 48, were arrested on drug trafficking charges after the Harnett County Sheriff's Office reported finding 120 gallons of liquid meth in the driver's side fuel tank of a 2009 Peterbilt on Saturday. (Photo credit: Transport Executive).
The liquid drug, which can be converted into 454 kilograms of crystal meth, has a street value of roughly $91 million.
Pineda is now facing possible deportation while Arreola's immigration status is still being investigated. Both men are being held in the Harnett County Detention Center under a $3 million bond, according to abc11.com.
Linden, which has a population of roughly 130, is about 12 miles northeast of Fayetteville.