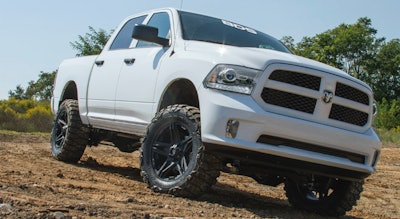 The heist was strange enough. The stuff of movies. And the evidence left behind is even stranger still.
Earlier this month, several thieves working in unison stole 10 or 11 2018 Ram 1500 trucks by simply driving them off the lot at Ram's factory in Michigan.
The FCA guard was baffled by the convoy of pickups that plowed through his gate in the wee hours of the morning on May 3. The group left behind an older Ram pickup that they had stolen and used to bring them to the Warren Truck Assembly plant where they had slipped through a hole cut in the fence.
One arrest has been made as police work to track down the last two stolen trucks. Initially it was thought that 10 or 11 trucks had been stolen. Some of the recovered trucks were found stripped of parts while others were in good shape, according to freep.com. At least one of the pickups had run out of gas.
In another strange twist, while going over the trucks for clues police found a pocket-sized Bible that presumably had been left behind by one of the thieves. Police are analyzing the book for DNA evidence. Too bad the thieves didn't analyze it for moral guidance, like "Thou shall not steal." Maybe next time.
Police are hoping that folks will come forward with information about the heist which ranks as one of the largest multi-car thefts in Michigan history.