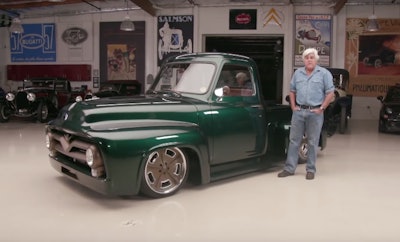 Noah Alexander, a psychology major in college, turned his attention to restoring trucks and cars not long after graduation and has never looked back.
Alexander has owned Classic Car Studio in St. Louis, Mo. for the last 12 years. Alexander and his crew work carefully with clients to do show quality restorations and restomods that are also intended to be driven.
"We like to build something that our customers will drive. Get out and use it," Alexander said on a recent episode of Jay Leno's Garage that features a 1953 F-100 that his shop built for a farmer. "We'll build you something that's show quality, but it's important that you get out and drive and try to break something. Have a good time."
The green F-100 features a 345-hp Ford Boss 302 mated to a 5-speed Tremec gear box which in turn spins a Ford 9-inch rear end with a 3.50 gear ratio. Chris Coddington, son of late hot rod phenom Boyd Coddington, custom built the 20-inch billet wheels.
Alexander's crew spent 500 hours alone on the body, which included eliminating the drip rails above the doors and the vents just forward of the cab. A Mustang II front end and 4-link suspension in the rear are bolted to a TCI chassis.
"It handles like a go-cart, which blew us away," Alexander told Leno.
The 34-minute segment also features a test drive with Leno who gets a big kick out of the fact that Alexander's crew took the time to ensure that the truck's horn works.
"It's amazing how many guys just don't bother with it," Leno said.
You can catch Alexander's show, Speed is the new Black on Velocity.