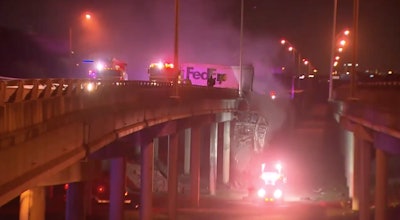 A FedEx driver was killed early Saturday morning in Dallas after his truck plunged off a bridge following a collision with an abandoned vehicle.
Dallas police report that Quantico Smith, 30, died after crashing a FedEx semi into a car that had been left on the highway following an accident. The driver of the Honda Accord had reportedly fallen asleep, struck another vehicle and then left the disabled car on the overpass.
After striking the car, Smith's truck veered off the overpass and crashed into the road below where it burst into flames.
Police have not yet filed any charges, according to abc13.com.