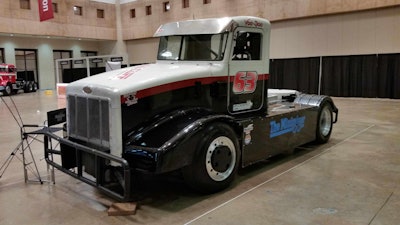 For the first time at the Rush Truck Tech Rodeo technicians will have a chance to work on a race truck.
Mechanics competing this week at the Henry B. Gonzalez Convention Center in San Antonio will pair up in teams of two and try their luck at diagnosing and repairing a Bandit Big Rig Racing Series race truck presented by Minimizer.
There will be plenty of mechanics on hand to give it a shot. In fact, it was announced tonight at the General Assembly Meeting that a record 1,400-plus technicians tested for the 12th annual event this year with 187 of them now here to compete for $225,000 in prizes.
The heavy-duty competition will include Alternative Fuels, Cummins, Eaton, Navistar and PACCAR MX. Medium-duty will include Hino, Navistar, Isuzu and Peterbilt. Specialty includes paint and body, bus and vocational. Parts will include Ford, Hino, Navistar, Isuzu and PACCAR Parts.
The Rising Star competition, featuring Level I and II techs, is back this year. An Aftermarket Sales competition has been added to the lineup. In addition to the contests, techs will have a chance to attend classes offered by industry suppliers.
For the Bandit Challenge, teams will have 10 minutes to review the rules before going to work on the truck. Prizes will be awarded to teams that identify issues in the shortest amount of time.
First Place: Each person on the team will receive a Minimizer Tandem Work Bench, two minimizer Single Tire Work Benches and two Minimizer Dual Tire Work Benches, plus a $250 gift card.
Second place: Each team member will receive one Minimizer Tandem Work Bench, one Minimizer single tire work bench and one Minimizer dual tire work bench, plus a $100 gift card.
Third place: Each team member will receive one Minimizer Tandem Work Bench or one Minimizer Single Tire Work Bench and one Minimizer Dual Tire Work Bench, plus a $50 gift card.
Technicians that compete in the annual Rush Truck Tech Rodeo are selected from various Rush Truck Centers around the U.S. Rush Truck Centers offer the largest network of commercial vehicle dealerships in the U.S., with more than 100 locations in 22 states. The company, which is listed on NASDAQ, reported $4.2 billion in revenue in 2016.