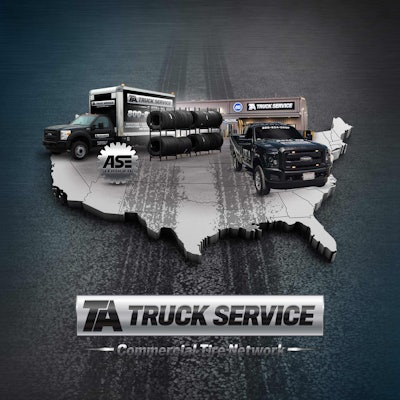 With SEMA across the street, the Las Vegas Country Club before them and the final game of the World Series underway, TravelCenters of America cranked up the excitement Wednesday by announcing the launch of its new TA Truck Service Commercial Tire Network.
Barry Richards, the executive vice president of operations at TA, broke the news from the grand terrace of the club as the late afternoon sun shone across the verdant golf course, capping off an otherwise hectic day at SEMA.
"For over 40 years, we've been in the tire business, offering our customers so many brands, so many different tires," Richards explained while flanked by two TVs that would later display the World Series for roughly 130 guests. "During this time we were confined to the traditional truck stop channel, largely due to our agreements with tire manufacturers. Customers have come to rely upon our expertise and abilities to provide more flexible solutions.
"Our customers have changed. We see that the strategy is no longer viable. So we needed to shift our thinking and look to a new approach and expand the way that we can sell tires and the tires that we can sell, aligning with companies that clearly recognize the value of TA's abilities to distribute their tire products and prioritize the customer's needs."
The move dramatically expands TA's ability to reach more customers with a greater range of tire products.
"We now have more tire brands and more delivery channels than ever before: retail install, pickup and delivery, Road Squad emergency service, OnSite road maintenance and our national tire programs. We're now better prepared to take care of our customer's needs in all categories," Richards said.
In a press release issued from the company's home office in Westlake, Ohio, Travel Centers President and CEO Tom O'Brien said that the launch of his company's Commercial Tire Network places it ahead of its competitors.
"We believe that the TA Truck Service Commercial Tire Network is the largest independent commercial tire dealer in the United States, and that we have assembled a leadership and dedicated sales team to bring the combination of wide product choice, flexible delivery/install capability, and competitive pricing to our customers that may be unparalleled in the commercial tire business," O'Brien said.
Wednesday's launch of TA's Commercial Tire Network resulted in an expanded line-up of tire product offerings.
"Starting now, Nov. 2, 2016, TA Truck Service Commercial Tire Network will feature Goodyear, BF Goodrich, Cooper Tire, Yokohama and Continental," Richards said. "Our largest partner, Goodyear, will feature a full-line of Goodyear, Marathon and Kelly tires available across the United States. Soon, and starting in the Eastern United States and Texas, we'll proudly introduce the Pirelli brand commercial tire to the U.S."
TA's Goodyear retread program is also getting a boost.
"Our Goodyear retread program will provide national brand consistency and additionally, select locations across the U.S. will offer retreads all at a competitive price," Richards explained.
The TA Truck Service network includes 243 truck service facilities, 1,079 repair bays, nearly 3,000 technicians, more than 1,600 RoadSquad Connect emergency roadside assistance vehicles and a growing fleet of OnSITE mobile maintenance vehicles.