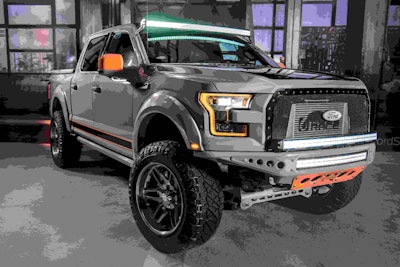 Ford's F-Series won SEMA's Hottest Truck award this morning at the Las Vegas Convention Center.
Ford also claimed the Hottest Coupe and Hottest Hatch awards. It's a repeat performance for all three vehicles.
"We are honored to take home three SEMA hottest vehicle awards for the second straight year," says Dave Pericak, global director, Ford Performance. "Embracing the aftermarket industry is something we relish, and – with Mustang, Focus and F-Series being back-to-back winners – it appears the aftermarket appreciates our products as well."
The awards recognize the most popular vehicles the organization's members feature in their displays at the weeklong event. 2015 marked the first time any OEM won three of the coveted awards; this year marks the first time an OEM has repeated the feat.
From street rods to super off-roaders, Ford F-Series has been one of the more popular choices for customization at SEMA and has won the Hottest Truck award the last six out of seven years.
"Ford is a great partner with the specialty equipment market, and the Mustang, Focus and F-Series trucks are terrific platforms for customization," said Chris Kersting, SEMA President and CEO. "Through collaboration with Ford, the aftermarket industry has been able to provide consumers with countless products and options on ways to personalize their vehicles."
Ford continues to have the largest OEM presence at SEMA this year, with more than 50 vehicles on display including a large collection of custom builds on the Ford stand and show floor. The Ford Out Front performance demonstration track enters its sixth year, and is one of the lead attractions of the 2016 show.