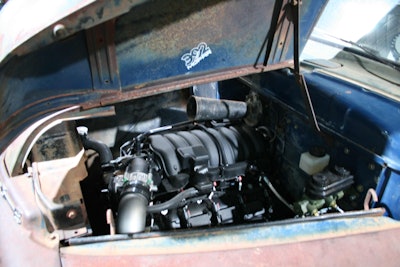 A 1950 Dodge D100 pickup got a new lease on life thanks to a new Mopar 392 HEMI engine kit.
The truck was parked at Mopar's performance exhibit at SEMA today at the Las Vegas Convention Center as the head of FCA Parts and Service, Pietro Gorlier, told reporters nearby that his company would now begin selling 345 and 392 Crate HEMI engine kits for 1975 and earlier vehicles.
"Each kit contains everything you need—the wiring harness, power distribution center and our new control module," Gorlier announced at the press conference. "You can install the engine and the kit on anything with wheels, even a non-Mopar vehicle. Although, why should you have a non-Mopar vehicle? That's the real question."
"Graveyard Carz" star and Mopar master Mark Worman had early access to one of the 392 crate HEMIs and installed it in his personal 1971 Plymouth Barracuda, which he brought to SEMA. Worman joined Gorlier on stage and told reporters how easy it was to install the engine.
"Putting the engine in was a piece of cake. Putting the controller on it—the controller is amazing," Worman said. "Once you have it hooked on to the plug-n-play wiring harness on the engine, it's six wires to run it. That's insane."
By marrying new technology with old, Mopar helped Worman overcome an obstacle that he wasn't willing to take on before.
"With the controller and the wiring that they made available for this it just sparks the imagination now as to where your limits are, whereas before I was terrified with the idea of putting a late model HEMI in any of my cars because of the wiring. That was the only reason," Worman said.
To help celebrate the arrival of its two new engines, one of the new HEMI engines was started on stage and roared a few times before being stopped a few seconds later.
The Mopar 345 Crate HEMI and 392 Crate HEMI Engine Kits, both available for purchase now through FCA US LLC dealers either in-store or online at www.Mopar.com/CrateHEMI, include a power distribution center, a powertrain control module (PCM), engine and chassis wiring harnesses, an accelerator pedal, O2 sensors, ground jumper, charge air temperature sensor and in-depth information sheets on installation. The kits, compatible with respective 5.7-liter or 6.4-liter engines built in 2014 or newer, are shipped in distinctive packaging featuring either the 345 or 392 logo.
A factory calibration is featured on the unlocked PCM. The Mopar 345 Crate HEMI Engine Kit bumps horsepower to 383 and torque to 425 lb.ft. for the 5.7-liter HEMI engine, while the 392 Crate HEMI Engine Kit keeps the 6.4-liter HEMI steady at 485 horses and 472 lb.ft. of torque. Mopar Crate HEMI Engine Kits are designed and optimized for use with manual transmissions. Automatic transmissions such as the Torqueflite 727 and 904, while not optimal, can also be adapted for use.
Mopar has also "kitted" together additional engine accessory hardware components enthusiasts will need to suit their individual installation needs, making it even easier to pick a Mopar Crate HEMI Engine kit and install a modern-day HEMI engine. Available hardware includes a power steering expansion kit, AC expansion kit and rear sump oil pan kit, among other components.
Mopar also announced today at SEMA a new restoration parts web resource, www.Mopar.com/restoration. The page will connect enthusiasts with more than 45 approved Mopar restoration parts licensees and more than 9,000 products to assist in restoring muscle-car era glory.
Las Vegas – November 1, 2016 – Mopar Stand SEMA Show 2016