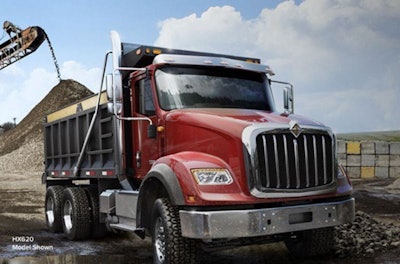 Note: This article originally appeared in HWT's sister publication, Commercial Carrier Journal.
Navistar International Tuesday announced a strategic alliance with Volkswagen Truck & Bus,which includes an equity investment in Navistar by Volkswagen.
In the near term, the alliance will focus on developing common power train systems that are set to be delivered to North American customers by 2019.
Navistar President and CEO Troy Clarke says the long term goal of the joint-venture is to expand the technology options available to customers, like advanced driver assistance systems, connected vehicle solutions, cabin and chassis components and fuel efficiency technologies.
"The alliance brings together two companies with complimentary market positions," says Andreas Renschler, CEO of Volkswagen Truck & Bus and member of the Board of Management of Volkswagen AG responsible for commercial vehicles. "Together we cover about 75 percent of the global profit pool."
As part of the deal, Volkswagen Truck & Bus gets 16.2 million newly issued shares in Navistar – a 16.6 percent stake in the company – and two seats on the company's board of directors. Navistar gets $256 million – a valuation of $15.76 per share and a 12 percent markup of the stock's price at close Friday.
Further, the alliance is expected to produce a procurement joint venture that leverages the purchasing power of Volkswagen Truck & Bus's three major truck brands – Scania, MAN and Volkswagen Caminhões e Ônibus – in addition to Navistar's International and IC Bus brands, providing Navistar with enhanced global scale.
Volkswagen brings to the table leading market position in European and South American truck markets. For Volkswagen, Navistar unlocks the North American market, where International holds the largest dealer network and is a leading truck brand in Mexico and Latin America. As part of the agreement, Volkswagen will receive revenue through the supply and licensing of its power train solutions.
"The 13 liter engine we currently offer is derived from a previous licensing agreement we have with MAN," Clarke says. "This is the genesis of the opportunity we saw that we could build into other power train platforms."
Clarke says the potential to offer an integrated power train to customers was attractive, but added the company expected to continue working with its third party suppliers.
"There's a well established trend globally for vertical integration. I don't think I can point to when that might take place, but now those are options that are available. [The alliance] gives us, I think, a tremendous opportunity to be even more customer focused," Clarke says. "Cummins is a great partner for us. The Cummins engine in our product is a great engine for us and we anticipate we'll continue to offer the Cummins product for a period of time."
Navistar has begun to chip away at marketshare, having increased its order share for eight consecutive months. Clarke says he believes the partnership with Volkswagen bolsters that trend and "will increase consideration in our product, which will drive marketshare."
"We want to get as much of the market as we can, but we'll concentrate on the next step, then the next step," he adds. "With this kind of partnership, it gives us the chance to get on our the balls of our feet again."
Globally, the companies' combined truck and bus volumes reached 263,000 units last year. Moving forward together each are expected to reap the benefits of a shared advanced global power train technologies and resources; lower costs and investment associated with development of next-generation power train and advanced technologies; increased opportunity for incremental parts revenue streams; economies of scale; reduced costs; and an expanded sourcing scale attractive to suppliers looking to grow globally.
Clarke says it is "logical" to assume that Volkswagen would use existing Navistar build capacity to manufacture its engines, but added those details have not yet been ironed out.
Clarke says the company expects the alliance to be accretive beginning in the first year, and for cumulative synergies for Navistar to ramp up to at least $500 million over the first five years. By year five, Clarke says he expects the alliance to generate annual synergies of at least $200 million for Navistar. This annual run rate is expected to grow materially thereafter as the companies continue to introduce technologies from the collaboration, he adds.
The strategic alliance will receive oversight from an alliance board, comprising top-level executives from both parties, which will align the product development and procurement processes between the companies.