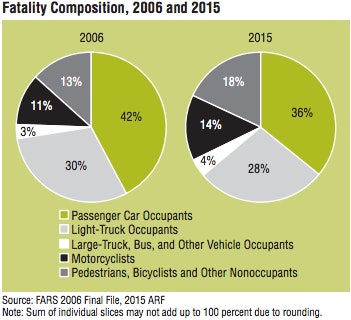 Note: This article first appeared in HWT's sister publication, Overdrive.
Truck-involved crashes resulting in fatalities increased by 4.4 percent in 2015 from 2014, according to the National Highway Traffic Safety Administration's final 2015 fatalities report released this week. NHTSA's report doesn't account for crash fault, however, only truck involvement.
NHTSA's report says there were 4,067 truck-involved fatalities, which is the highest number since 2008. Of the 4,067 fatalities, 667 (16.4 percent) were occupants of the trucks, 10.1 percent were non-occupants and 73.5 percent were occupants of other vehicles.
In total, there were 35,092 people killed in crashes in the U.S. in 2015, a 7.2 percent increase from 2014, which is the largest increase in highway fatalities since 1966, according to NHTSA. There was also a significant increase in the number of people injured in crashes in 2015, rising from 2.34 million in 2014 to 2.44 million in 2015, NHTSA's report states. These numbers are lower than NHTSA predicted in its preliminary report released in July.
A 3.5 percent increase in vehicle miles traveled is one contributing factor to the rise in highway fatalities, NHTSA says. The fatality rate per 100 million vehicle miles traveled increased 3.7 percent to 1.12 in 2015.
Crashes resulting in fatalities caused by driver distraction increased from 3,197 to 3,477, or 8.8 percent, in 2015 from 2014. Alcohol-impaired fatalities increased by 3.2 percent, speeding-related fatalities increased by 3 percent and drowsy-driving fatalities decreased by 3.2 percent.
"The data tell us that people die when they drive drunk, distracted or drowsy, or if they are speeding or unbuckled," said NHTSA Administrator Dr. Mark Rosekind. "While there have been enormous improvements in many of these areas, we need to find new solutions to end traffic fatalities."