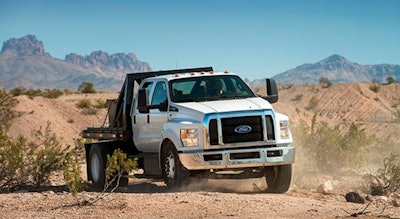 Roush CleanTech says it has developed a propane autogas fuel system for the Ford F-750 chassis. The Ford F-750 base model comes with a 50-usable-gallon fuel tank but an extended tank option is available.
Todd Mouw, vice president of sales and marketing for Roush CleanTech, says the the model was created in response to the growing demand for an autogas-fueled medium-duty chassis for bobtail applications, cylinder delivery trucks and larger tank setters and box trucks.
HWT Related: Alliance Autogas converts F-150 in record 92 minutes
HWT Related: Bimbo Bakeries USA deploys autogas delivery vehicles in major markets
HWT Related: Nestle fleet adding 150 autogas trucks
Michigan-based propane supplier Victory Propane, who already has 25 Ford F-650s equipped with the Roush CleanTech fuel system, was one of the first in line to purchase the new Ford F-750.
"We will increase our autogas fleet with Roush's first two Ford F-750s, and 13 more have been ordered," says Gregg Falberg, president of Victory Propane
Built on Ford's 6.8L V10 engine, Mouw says each Ford F-750 equipped with this fuel system will emit about 120,000 fewer pounds of carbon dioxide over its lifetime compared to conventionally fueled counterparts.