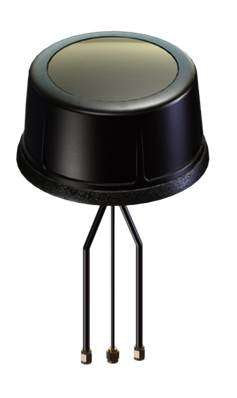 Laird recently introduced three new lines of disk puck mobile antennas which the company says improves tracking reliability.
Laird's new disk puck antennas are designed to provide the connectivity required to accurately monitor real-time data like position, speed, destination, engine temperature, and even cargo information like temperature and orientation.
"Getting a signal with a vehicular antenna that has an unstable coverage pattern is a bit like trying to catch a pea with a tennis racquet; sometimes the pea will go right between the strings," explains Jack Cowper, Laird senior vice-president of infrastructure antennas.
"Leveraging decades of antenna design experience, our engineers have constructed Laird's new disk puck antennas with an industry leading, stable, coverage pattern which acts more like a baseball glove. That means there are substantially fewer holes in the coverage, creating more reliable connectivity for drivers, asset tracking managers and their customers."
This propriety antenna design enables fleet managers to offer their customers real-time monitoring of cargo, like product temperature, and make decisions from afar rather than leaving those choices up to a contracted driver.
Laird's new VLT/ VLQ/ VHP Multiport – Multiband Disk Puck Antennas deliver coverage across 3G/ 4G LTE, Wi-Fi and GPS bands. As long as the vehicle is above ground the antenna will stay connected, Laird reports. The low-profile antenna housing, designed to be compact and rugged, meets IP67 standards and is available in black or white UV-resistant polycarbonate plastic.
"For over-the-road haulers these antennas offer increased productivity and more reliable data," explains Cowper. "For public transportation fleets they offer better connectivity for customers, improving the passenger experience and offering a point of competitive differentiation."
The antennas come with Laird's new 5-year product warranty program.