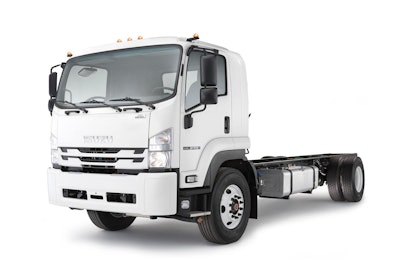 Spartan Motors announced today that it's been selected by Isuzu North America Corporation to produce the class 6, Isuzu F-Series truck.
Spartan, which has been manufacturing Isuzu N-Series gas trucks since 2011, also announced that it will be building a new 85,000 square-foot plant in Charlotte, Michigan to concentrate on assembling Isuzu trucks.
"Over the last 18 months, we have implemented a number of changes in different areas of the company which are driving increased revenue and business performance. However, when an existing customer such as Isuzu makes a multi-year commitment to Spartan, we feel that is the best validation that we are focused on the right things and making progress in the right areas," says Daryl Adams, president and CEO, Spartan Motors.
"We want to thank our partners at the City of Charlotte and the MEDC for their collaboration and support. We look forward to further expansion of our manufacturing footprint and bringing additional new jobs to Michigan."
A ground-breaking ceremony is scheduled for the plant on April 19. Charlotte, which is about 20 miles southwest of Lansing, Mich., has a population of 9,074, according to a 2010 U.S. Census. Spartan's headquarters is located there.
Spartan is a leading designer, engineer, manufacturer and marketer of a broad range of specialty vehicles, specialty chassis, vehicle bodies and parts for the fleet and delivery, recreational vehicle (RV), emergency response, defense forces and contract assembly (light/medium duty truck: Class 3, 4 and 5) markets.