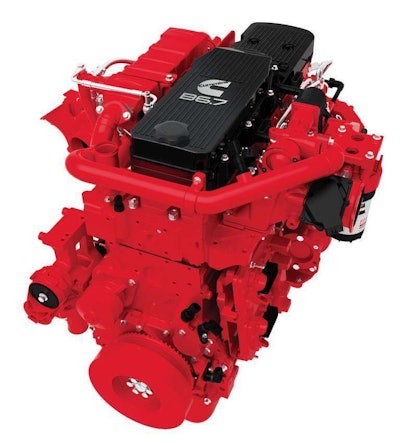 Cummins unveiled late Tuesday, March 1 the 2017 versions of its medium-duty workhorses, the 2017 B6.7 diesel engine and its newest natural gas offering, the L9. The introduction of the new engines came at the NTEA Work Truck Show in Indianapolis.
Cummins touted the fuel economy benefits of the new B6.7 following the engine's unveiling, saying it offers up to 7 percent better fuel economy than its predecessor across its range of applications. Those fuel efficiency gains come without any loss in performance or power, Cummins says. The B6.7 is available in horsepower ranges from 200 to 325.
Cummins has built more than 11 million B-series engines since the series' introduction in 1984, the company said Tuesday. The engine is one of the more revered engines by customers across the company's engine portfolio, said Cummins' Srikanth Padmanabhan, vice president of the company's engine business. "The B-series engine is the blue jeans of the American trucking industry: It is here to stay and it will never be out of style," he said.
Cummins leaned on that customer enthusiasm to develop the updates for the 2017 edition of the engine, said Cummins' Brett Merritt, director of Cummins' on-highway business. Updates to the 2017 B6.7 include a much smaller and much lighter aftertreatment system and a new remote diagnostics system that can show B6.7-series owners and users engine information at a glance via a new Cummins' smartphone app.
The vocational L9, meanwhile, has in the 2017 model an available horsepower range of 260-380 and torque ratings of 720 lb-ft. to 1,250-lb.-ft. Cummins says the engine is suited for "the most demanding work truck applications."
HWT note: This article originally appeared in our sister publication, Commercial Carrier Journal.