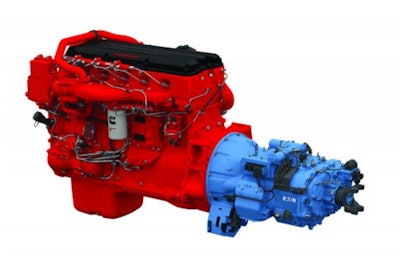 Eaton and Cummins announced jointly Sunday at the Technology & Maintenance Council (TMC) meeting in Nashville, Tenn., new features to their integrated powertrains that will increase available downspeeding options.
An additional torque rating of 1,850 lb.-ft. for the 400-475 horsepower Cummins ISX15 will be available in April and can be specified with an Eaton Fuller Advantage C-Ratio 10-speed transmission, an Eaton UltraShift PLUS MHP 13-speed transmission or an UltraShift PLUS MXP 18-speed transmission.
"It's an extension of torque on the top end but it's also the introduction of SmartTorque2 on the lower end so you get that level of performance," says Ryan Trzybinski, product strategy manager, Commercial Powertrain, Eaton.
Trzybinski adds the increased capabilities also provide a higher upside for customers in the vehicle's resale value.
The Advantage transmission has a Gross Commercial Weight (GCW) rating of 110,000 pounds, while the UltraShift PLUS MHP is rated at 140,000 pounds with the MXP having an unlimited GCW rating.
Eaton and Cummins are targeting the release of a SmartAdvantage series transmission with a maximum GCW of 80,000 pounds in August to match with the new 1,850 lb.-ft. torque rating.
Additionally Sunday, Eaton announced its new GearLogic technology, which is integrated with Cummins ADEPT electronic features, and will provide improvements in performance, fuel efficiency and driver confidence.
GearLogic, Trzybinski says, allows for the smooth delivery of many of the Eaton transmission and Cummins engines features, including Hill Start Aid, engine overspeed protection, enhanced engine braking, Smart Coast, Blended Pedal and Vehicle Acceleration Management (VAM).
"[Eaton and Cummins] has a whole pipeline of technology that we're working on," Trzybinski says, and [GearLogic] is how we're unlocking it."
ADEPT is a suite of advanced electronic features for the ISX15 engine that works with automated manual transmissions, dynamically adapting to operating conditions to help even novice drivers operate as efficiently as a seasoned and efficient professional.
ADEPT enhances fuel economy with no impact to productivity, Michael Taylor, General Manager Global Powertrain, Cummins Inc., says, adding it also harnesses the electronic capabilities of the engine and transmission to make powertrain control decisions in real time.
The two companies are also deepening their collaborative integration efforts to now include joint sales and service support in the field.
The initiative will combine the Cummins Care program with Eaton's Roadranger support including the integration of both companies 24/7 call centers; sharing current diagnostics tools and the joint development of new tools; and cross-training of sales and service teams.
HWT note: This story was previously published in HWT's sister publication, Commercial Carrier Journal.