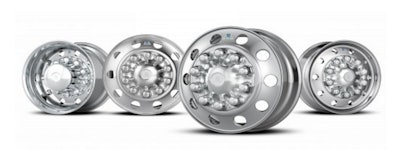 Alcoa Wheel's Ultra One wheel, which the company bills as the world's lightest heavy-duty truck wheel, will now be available in three new sizes.
Alcoa announced on Sunday that its aluminum alloy Ultra One will be available for order in the following sizes on May 15 (in inches): 24.5 x 8.25, 22.5 x 14 and 22.5 x 9. Ultra One is currently only available in the standard size of 22.5 x 8.25 and weighs 40 pounds.
"Alcoa is continually expanding its state-of-the art aluminum wheel solutions," says Tim Myers, president, Alcoa Wheel and Transportation Products.
"The Alcoa Ultra One wheel with MagnaForce alloy changed the industry when it was introduced and we're proud to add to this family of lightweight, freight efficient, easy-to-maintain, cost effective wheels."
Ultra One wheels are about 50 percent lighter than their steel counterparts. The 24.5 x 8.25 wheel is 51 pounds, or three pounds less than Alcoa's LvL ONE 24.5 x 8.25 wheel.
With a 12,800-pound load rating, the Ultra One 22.5 x 14 wheel weighs 52 pounds, an additional two-pound reduction.
Alcoa reports that when converting from steel dual wheels and tires to Ultra One 22.5 x 14 wheels on an 18-wheeler, fleets will save more than 1,400 pounds.
Ultra One's 22.5 x 9 wheels weigh 56 and 48 pounds, based on fitment. Ideal for refuse collection, logging, mining and other heavy-haul applications, each Ultra One's 22.5 x 9 wheel offers a 10,000-pound load rating.
Alcoa reports that fleets have increasingly converted to aluminum wheels to help offset the weight of federally-mandated pollution-control equipment. Lighter wheels can also improve fuel economy.
Ultra One wheels are comprised of one-piece forged aluminum, which the company states is five times stronger than steel. The wheels, which require no painting, come with a five-year limited warranty.