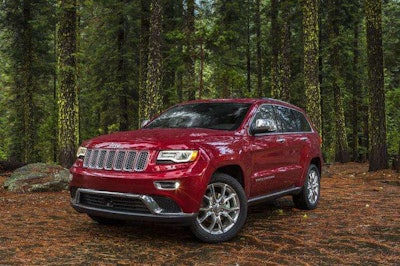 Chrysler Group is voluntarily recalling an estimated 184,215 SUVs globally to replace a component that manages restraint-system deployment, the automaker reported Tuesday.
Occupant restraint control (ORC) modules in certain model-year 2014 Dodge Durango and Jeep Grand Cherokee SUVs may exhibit internal electrical short-circuits, according the notice. This condition may cause air-bag warning lamps to illuminate, a signal that supplemental restraint systems such as air bags and seat-belt pretensioners may be disabled.
Chrysler Group said it is unaware of any related injuries or accidents.
The component supplier advised Chrysler Group of the issue, and additional investigation by the company's engineers resulted in this recall.
Some model-year 2014 vehicles are affected, others are not, Chrysler added.
All affected customers will be advised when they may schedule service, which involves ORC module replacement. In the interim, customers are advised to use their seatbelts, as always. Seat belts comprise a vehicle's primary restraint system.
Customers with questions may call Chrysler Group's Customer Information Center at 1-800-853-1403.
ORC modules will be replaced in an estimated 126,772 U.S.-market vehicles. An estimated 8,106 are in Canada; 3,722 are in Mexico and 45,615 are outside the NAFTA region.