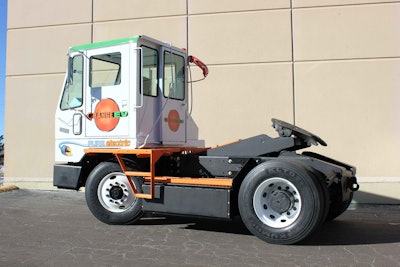 ITS Technologies & Logistics and vehicle maker Orange EV report the successful demonstration of Orange's T-Series electric terminal truck at ITS' Edgerton, Kan., intermodal operations.
"Terminal trucks are critical to the services ITS provides to our rail intermodal customers," says ITS Senior Vice President of Intermodal Operations Ron Teague. "Terminal trucks work long hours, often in harsh 24 x 7 industrial environments. We needed to see that Orange EV's all-electric terminal truck could do the job and get through a shift on a single charge. They've convinced our team."
Orange EV's T-Series consistently lifted and pulled the GCWR of 81,000 pounds at the site-designated 20 mph speed. Over the course of the two week demonstration, the truck lifted and pulled many oversized loads, completing over 400 total runs and showing its 160 kWh battery would go 10 hours or more on a single charge.
"Our drivers are excited," says Dustin Melton, ITS area vice president overseeing the onsite demonstration. "We believe electric vehicles offer a range of economic, environmental and operator benefits, and we've been working with Orange EV to ensure their truck meets our needs. Our drivers proved that moving to electric truck operations will be a short learning curve. They were enthusiastic about driving a cooler, quieter, low vibration, zero-emission vehicle."
ITS prvoides rail intermodal terminal services. ITS employs nearly 2,000 people and handles more than 7 million lifts and 1.5 million vehicles each year at more than 60 facilities across the U.S. and Mexico.
[youtube vflXiGyJSz8 nolink]
Terminal operators in warehouse/transportation, intermodal, manufacturing and parcel delivery now have a viable zero-emission alternative to existing diesel terminal trucks, according to Orange EV.
Operators will also appreciate that the T-Series will significantly lower the cost of fuel, maintenance and other operating expenses, reducing the total cost of ownership and paying back well within the life of the truck, the company says.