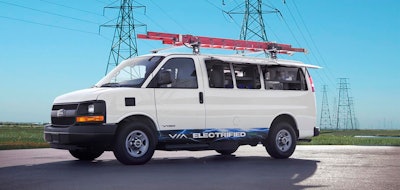 VIA Motors has received official certification from the Environmental Protection Agency for its eREV Van, or Extended Range Electric Vehicle, according to VIA Motors CEO Pablo Acedo.
Based in Orem, Utah, VIA Motors develops and produce extended range electric light-duty vans and trucks for fleet customers.
VIA Motors developed the proprietary V-DRIVE powertrain that delivers up to 40-mile battery range and unlimited extended range, averaging over 100 miles-per-gallon in typical daily driving, the company says.
The result has been functional, economical and environmentally-friendly light-duty vans and trucks.
"We see our eREV vehicles as an important part of the fleets of the future," says Acedo. This all-important EPA certification validates our concept of integrating VIA's proprietary powertrain into OEM vehicles to deliver both economical and clean vehicle solutions."
VIA Motors is currently working with the Electric Power Research Institute – also know as EPRI – and the South Coast Air Quality Management District to deliver Plug-in Hybrid Electric Vehicles to electric utility fleets as part of a nationwide demonstration supported by the Department of Energy.
"If we are going to see main stream adoption of electric vehicles, the technology must deliver a good return on investment to the largest segment of the auto business, namely trucks and vans," says VIA Motors Chairman Bob Lutz, father of the Chevy Volt and former vice chairman of GM. "That's why I am so confident in VIA and proudly serve as chairman."
EPA certification means that VIA is now cleared to deliver its VIA eREV Vans to fleet customers across the United States.
They have already begun the shipping and delivery process. Twenty-three VIA eREV Vans have been delivered to customers and three more are currently in transit. More will be on the way soon, according to the company.
Excited about the announcement, but already looking to the future, Acedo adds.
"This is just the beginning," he says. "We are very excited about many other major milestones on the horizon as we continue to fulfill the needs of our major fleet customers with VIA VTRUX vans and trucks."