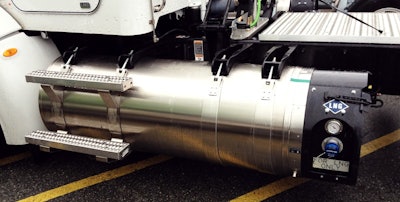 Westport Innovations Inc. is working with Kroger to meet the grocery store chain's industry-leading environmental sustainability goals, providing the only tank system in North America that operates on cold or warm LNG, Westport says.
"The Kroger Company has a strong commitment to finding energy efficient solutions for business operations, and to reducing our carbon footprint," says Ashley White, logistics sustainability manager at The Kroger Co. "Adopting liquefied natural gas for transportation with the Westport iCE PACK LNG Tank System makes both environmental and economic sense."
Kroger has placed an order for 40 Westport iCE PACK systems to be integrated onto their Freightliner natural gas trucks, which will also feature the Cummins Westport ISX12 G engine.
All 40 trucks will be delivered to Kroger by the end of summer 2014 to support their corporate goal to improve fleet efficiency by increasing miles per gallon and load capacity. The supermarket chain is implementing their first pilot program of theWestport iCE PACK systems at one of their Los Angeles distribution centers.
"As one of our first customers of iCE PACK, our latest technology for fleets running on LNG, Kroger clearly demonstrates their leadership in identifying new solutions that help continuously improve their fleet efficiency," says Mark Aubry, vice president, Sales and Marketing of Westport.
The Westport iCE PACK system is the leading LNG tank system for natural gas trucking fleets that uses clean burning, domestic LNG which costs an average of $1.50 per diesel gallon equivalent (DGE) less than diesel.
Utilizing Westport's most advanced technology, iCE PACK makes it convenient for fleets to fuel at an increasing number of LNG stations across North America, the company says.
The use of cold LNG results in the highest energy density fuel storage available for Class 8 trucking with the added benefit of diesel-like fueling experience for efficient on-road trucking needs.