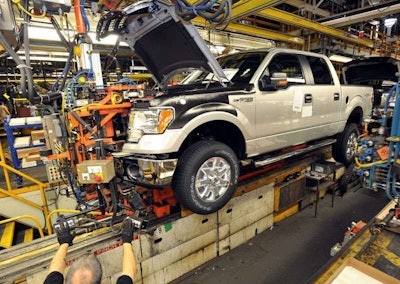 Over the last three years, retail registrations of light-duty pickups powered by V6 engines have grown more than 600 percent, reflecting an emerging preference for more fuel efficient engines that provide comparable V8 power.
Ford, whose F-150 is the best selling pickup in the world, says its flagship F-150 is directly responsible for 91 percent of that growth based on the company's analysis of Polk retail registration data.
Doug Scott, Ford truck group marketing manager, says the company expects those numbers to hold for the rest of 2014.
"It really is amazing when you consider we are doing that with just two V6 engine choices – the 3.5-liter EcoBoost and the 3.5-liter Ti-VCT engine," he says. "When we come out with the new 2015 F-150, we will offer three different V6 engines, so there is potential for further growth."
In April, Ford sold its 500,000th 3.5-liter V6 EcoBoost-equipped F-150 and for the fourth month in a row, more than 57 percent of retail sales of Ford F-150 light-duty trucks were powered by V6 engines.
"Today's customer doesn't hold to the old notion that a truck must be powered by a V8 engine," Scott says. "Just five years ago, you would have had a hard time making a case for V6 truck engines."
Scott says driver's tastes have changed with "fuel effectiveness" an increasingly important factor in their buying decisions.
"Customers are looking for the best combination of city and highway mileage, horsepower, torque, towing capacity, payload and value, asking the key question, 'What is the most productive, efficient package for the work I need to do?'," he says.
Ford's new EcoBoost V6 is due to release with the new F-150 in the fourth quarter of this year, as is a V6 diesel from Ram.
According to Chrysler, the 3.0-liter turbodiesel V6 diesel-powered Ram 1500 will arrive at dealers during the third quarter of this year.