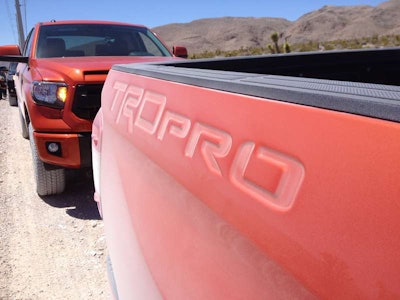 Toyota TRD Pro Series Added To 2015 Tundra Option List
Oil, gas, power, survey and other companies who put thousands of miles a year on their pickups driving over unimproved roads in rugged terrain know how much of a toll such conditions takes on both the work truck and the occupants.
Suspensions and tires take a beating, and the stock factory components aren't really designed for such extreme use, resulting in more down time to replace worn out or broken components.
Hard off-road use and demanding driving conditions also wears on the drivers and passengers, and slows down their ability to cover as much ground as they'd like in the time allowed.
That's why many contractors, construction, utility and gas/oil companies upfit their pickups with aftermarket suspensions, tires and wheels to better handle such demanding conditions.
But for Toyota owners there's another alternative coming for 2015 Tundra, Tacoma and 4Runner 4x4s targeted for use in such conditions: The TRD Pro off-road package.
Toyota , capitalizing on decades of winning pickup off-road racing experience, developed an off-road suspension upgrade package that consists of 2.0-inch-lift Toyota Racing Division (TRD) Eibach coil-over springs in the front with Bilstein remote-reservoir shocks front/rear tuned to that specific vehicle.
The spring rates are softer, tuned for each different vehicle, and allow two inches more suspension travel for grealty improved off-road ride and handling.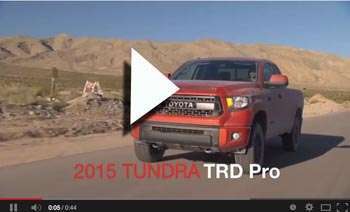 The longer, remote-reservoir shocks, which keep shock fade minimized, are tuned to provide excellent jounce and rebound control.
The TRD Pro upgrade on the Tundra also includes a one-piece heavy-duty aluminum plate that runs from the front bumper to the rear of the transmission.
TRD Pro Tundras also get a TRD cat-back exhaust system, unique interior seat trim, and bed embossed with "TRD PRO" on the rear quarter panels.
The 4×4 models of Tundra CrewMax and Double Cab, Tacoma Access Cab and Double Cab, and 4Runner equipped with the TRD Pro upgrade also come with a special combination of all-terrain tires and custom black wheels specific to that vehicle type that provided the best on- and off-road handling performance.
(Tundras get Michelins mounted on 18-inch black wheels, while 4Runners get 17-inch Nittos and Tacomas BFGoodrich T/As.)
The TRD Pro Series is the most-advanced yet in a long line of TRD packages for Toyota trucks that dates back to 1998 when the first Off-Road package was introduced for Tacoma.
I spent a half-day in the rugged desert area just south of Las Vegas driving the Toyotas over a variety rocky power line roads and dry washes. The Tundra handled exceptionally well compared to a stock version.
The TRD Pro suspension upgrades made it easier to handle the rough roads and trails without
Toyota's TRD Pro option will be available this fall when the 2015 models hit the showrooms.
Pricing has not been released. But we think it'll be comparable to aftermarket upgrades with the added benefit of being covered by Toyota's full warranty program.