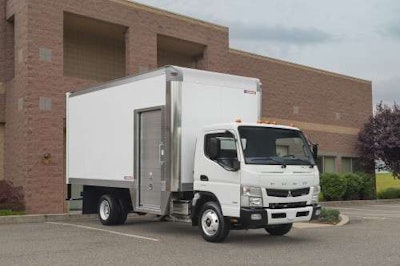 Mitsubishi Fuso Truck of America (MFTA) announced a partnership with Morgan Corporation, making Morgan's Maximizer step-in body available on its full line of Canter FE Series cabover work trucks.
The Maximizer body provides safer curb-side access to the cargo area through a low step-in entry at the body's front passenger side. The roll-up door at the step-in opening assures maximum interior space for cargo or installed equipment.
"Morgan has been a FUSO partner for years, and we're very pleased to be offering this additional choice to our dealers and customers in an effort to expand end-user applications for our Canter work trucks," says Todd Bloom, MFTA's President and CEO. "We're confident this body style, coupled with the lower cost-of-ownership represented by the Canter, will appeal to many customers who are looking to make their truck transport operations more efficient."
With the cargo area separated from the driving environment, the driver can enjoy the quiet, comfortable working environment of the FUSO Canter cab, which may help to reduce driver fatigue, the company says.
The new Maximizer body option will be available from Morgan Corp. through the FUSO dealer network throughout the U.S. and Canada.