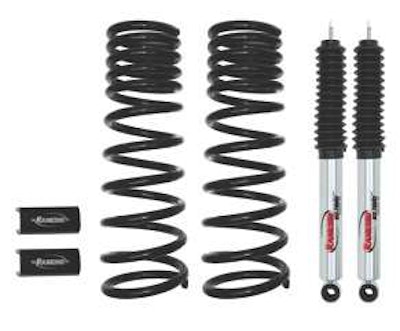 Rancho has introduced a new "Level It" performance suspension system, designed to lift the front of 2003-2012 Dodge Ram 2500/3500 diesel truck.

The system installs and fits up to 35-inch tires, and includes sway bar relocation brackets, a set of front Rancho RS7000MT monotube shocks and variable rate front coil springs. Rancho sway bar relocation brackets provide additional steering response by dropping the sway bar to the optimal position for full sway and roll control, the company says.

Rancho says the RS7000MT monotube shocks provide resiliency against heat and are ideal for extreme, off-road use and larger wheel and tire packages, adding the RS7000MT shocks deliver a fast, precise response during hauling or when driving on rough roads and trails, and include a 46mm bore and piston, 14mm chrome piston rod and advanced valving precisely tuned to the Dodge 2500/3500 diesel truck.
The Rancho kit also features variable rate front coil springs, including a precisely tuned progressive rate design that helps provide an excellent on- and off-road driving profile, according to the company.