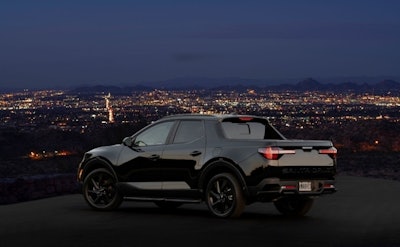 Hyundai
Released just two years ago, it didn't take Hyundai's first foray into the U.S. pickup market long to make some waves.
Hyundai's 2024 Santa Cruz has earned a Top Pick: Best Urban Pickup designation from Cars.com in its inaugural Pickup Truck Buying Guide, beating out all model year 2024 model year trucks for its "blend [of] adventure with everyday practicality and for its host of desirable features."
"The Santa Cruz demonstrates a vehicle that can provide versatility in urban settings and beyond," said Ricky Lao, director, product planning, Hyundai Motor America.
To qualify for a Cars.com Top Pick, vehicles must provide solid fuel economy ratings and/or range along with capability and value. For pickup truck-specific recognitions, functional considerations like payload and towing capacities are also assessed. Of course, vehicles must also have practical attributes that make them good for family-duty, given that many are purchased for this role.
"With a sleek and compact design, lockable hard-top tonneau cover and an incredibly comfortable ride, it's a city dweller's dream — and thanks to its Surround View Monitor, parallel parking on tight city streets has never been easier," noted Aaron Bragman, Cars.com Detroit Bureau Chief and author of the Pickup Truck Buying Guide.