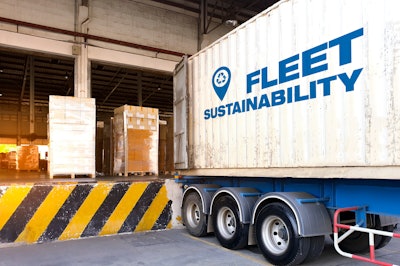 Quest
Transportation accounts for 27 percent of total greenhouse gas emissions in the U.S., according to the Environmental Protection Agency. This primarily comes from burning fossil fuels (including gasoline and diesel), and global fleets play a significant part in this.
The most environmentally conscious fleets use electric and hydrogen fuel cell technology to boost trucking efficiency. However, reducing the industry's carbon footprint and increasing your business's sustainability efforts don't have to start at the top or be a significant investment. Instead, you can take small but impactful measures to make green-minded improvements and stand out among competitors. And here's a bonus…improved sustainability may even save or make your business money.
Use these four fleet management strategies to help our planet and your fleet's efficiency.
Practice proactive vehicle maintenance
Fleet maintenance should be your top priority to keep your fleet healthy and reduce waste. Imagine dealing with vehicle breakdowns every six months rather than every other week. That's the great benefit of performing regular fleet maintenance.
Routine checks on tire pressure, motor oil, engine tune-ups and replacing clogged air filters can improve gas mileage and keep fleets on the roads and out of the landfill longer. Considering fuel cost represents 60 percent of a fleet's total operational cost, scheduled preventive maintenance is a key requirement to reduce your risk of costly, unplanned repairs and extend the lifespan of vehicle parts.
Eliminate wasteful ways
As tempting as it is to take the quick-and-easy route by tossing all waste in the trash, these materials can significantly contribute to landfills when they can be recycled or reused instead. Old parts can live again and possibly save and make your company money when commodities are identified.
Think twice before sending these valuable materials to a dumpster:
● Oil can be refined/recycled/reused
● Tires can be broken down into rubberized asphalt, fuel or even unique DIY projects that outsourcers will pay your business for
● Scrap metal can be sold as a commodity, reshaped and reused
● Batteries can be stripped down into various parts (lead, acid and plastic)
● Windshields and windows can be recovered and recycled to make bottles and fiberglass insulation
● Upholstered seat material can be harvested and made into furniture
Fleet owners must be open to exploring strategic partnerships to help eliminate waste and spur recycling within and outside the organization. To better help you understand the changing waste dynamics and keep your fleet field operation compliant, waste and recycling management providers specialize in identifying commodities and recyclables and can handle all your waste for you. It's also important to educate your staff and encourage participation in sustainability programs so it becomes a company-wide mindset and goal.
Handle hazardous waste with care
Antifreeze, brake fluid and windshield washer fluids are just a few of the hazardous fluids that power your fleet. These contain toxic chemicals and metals that are extremely damaging to our soils and waterways.
Fleet operators must dispose of and recycle hazardous waste properly. According to the EPA, a single gallon of oil can make its way into our water supply and contaminate up to a million gallons of drinking water. By properly disposing of this waste, fleet operators can decrease emissions and keep your organization compliant with federal, state and local regulations.
To ensure you're disposing of these fluids, identify all the hazardous material your business creates, separate and store them considerately and use an authorized waste carrier. If your organization needs help identifying what's dangerous, a proper waste and recycling management company can do so and address them with turnkey solutions that comply with your operations and federal regulations.
Embrace data analysis & reporting
To truly act on a fleet sustainability plan, companies need to monitor data to drive efficient decision-making. By keeping a close eye on waste inputs, outputs and trends, you can discover which fleets are the most or least efficient and identify where your process can easily be adjusted to be more sustainable.
Your company doesn't need to go broke to grow green. In today's digital world, there are easy and affordable ways to monitor your sustainability progress.
● Newer vehicle systems provide all types of data from their onboard computer for how efficiently the vehicle is running and being used. For example, idle time, average speed and mpg.
● Maintenance software applications provide detailed info on the maintenance and performance of the vehicles.
Prioritizing sustainability can have ripple effects through your entire organization by creating visibility into cost savings and efficiencies. What's more, implementing these practices can positively impact your bottom line by saving or making you money and ensure your company maintains a competitive edge with customers and investors. Start your 2023 sustainability planning early with these simple, scalable solutions!
About Ray Hatch
Ray Hatch has served as president and CEO of Quest Resource Management Group (NASDAQ: QRHC) since February 2016. He's a senior executive with 25 years of in-depth experience in waste management and food services industries that have generated more than a billion dollars in revenue.