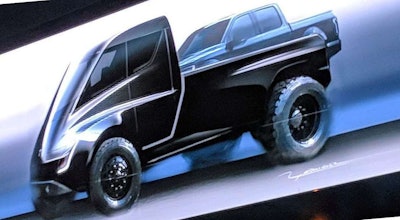 It's hard to unsee the image of Tesla's giant pickup.
You may recall the cartoonish-like rendering that popped up behind Tesla head Elon Musk that night in November as he introduced the Tesla Semi—the huge pickup of tomorrow with a conventional truck appearing to ride in its bed equipped presumably with an internal combustion engine (ICE).
It was memorable for sure and I guess the message to the competition was "We will dwarf you!" or something like that. (I can't help but think of Krushchev's infamous "We will bury you!" remark delivered in 1956 and directed at his archnemesis, America. Never happened).
I'm sure the Tesla pickup will happen, though the godfather of EVs, former GM exec Bob Lutz, believes the company is destined for bankruptcy unless it gets a better grip on its finances.
"They're hemorrhaging cash," Lutz said during a CNBC interview following Musk's reveal of the Tesla semi and its Roadster. "The company, folks, is going out of business. At this rate they'll never get to 2019."
I'd like to see Tesla's pickup go up against an ICE competitor. Doubtless, the Tesla will win the torque, emissions and acceleration rounds. However, if off-road tests stray too far from chargers, I can also see that ICE pickup backing out of that Tesla truck bed and towing the high-tech, headline grabber to its next juice box.
And therein lies three tough challenges for pickup electrification: capability, charge time and price.
Capability really goes hand-in-hand with charge time. Unlike electric sedans, pickups present unique challenges. The loads and the terrain they travel can fluctuate dramatically which poses a problem for battery life. If you're near charging stations and you've got time to spare, then it's no big deal. Plug in, wait and go. But for those who use their trucks for work, waiting is not exactly an option. So, if your route extends beyond the allotted range, plan accordingly for some serious wait time, no matter if it's a Supercharger or not.
To Tesla's credit, more charging stations are popping up, which is encouraging. I met with a Tesla sales rep recently in the Atlanta area who showed me a map of Tesla charging stations across the U.S. Some were Superchargers, while most were not. I was impressed to see that you can make a trip in a Tesla across the country along I-10 thanks to all those chargers along the way. You just have to wait to juice up, which is no big deal for some who've got time to kill.
Charge time varies for a Model X—what Tesla calls an SUV—following its advertised max range of 295 miles: the Supercharger can power it up in one-hour and twenty-three minutes, while the 100 kWh charger will take six hours and 27 minutes, according to Tesla's online charging estimator. Gas savings for the later is estimated at $24.50. Impressive! No gas savings are listed for the Supercharger. A 75 kWh charger will take nine hours and forty-two minutes to bring the SUV back to life. Gas savings are also $24.50.
Though the EPA estimated ranges are helpful, they're not always accurate. In the Model X that I sat in there were two different range calculations displayed on the dash; the one on the driver's side was significantly more than the one posted on the center display. When I asked about the difference, I was told that the lesser of the two was based on the most recent driving experience, in this case, the hilly roads of Roswell, Ga.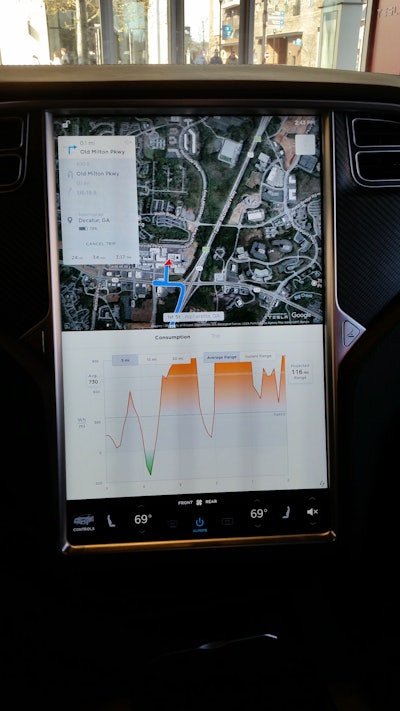 So, here comes an interesting lesson in Tesla range estimates: the projected range of 116 miles displayed on the center screen was based on the car's last 24-mile trip. If the same power demands continued, in this case more driving on Roswell's hilly roads, then you could expect to drive 116 more miles before battery depletion.
That was a huge difference from the 257-mile range listed on the driver's display! Keep in mind that the advertised max range of the Model X is 295 miles under ideal driving conditions.
So what exactly are ideal driving conditions? It brings to mind Nikola Motor Company's criticism following Musk's 500-mile range claim for the Tesla Semi.
"That is assuming you have NO HILLS. Perfect weather. No A/C. If you add normal temps and regular driving, with hills and delivery, you would see 3-4 kWh/mile. With his pack, you'd get 125-200 miles range. I guess he 'Blew his mind out of his skull with a portal gun,'" the since-deleted Tweet read.
Another message that caught my attention regarding range anxiety is found on Tesla's website: "Model X is not equipped with a spare tire. Spare tires add weight which reduces range. In the event of a flat, please contact Tesla roadside assistance. Emergency tire inflation kits are available for purchase."
No spare?! Are they that concerned about range? Yes. Will their pickup come equipped with a spare? Or will that be too much of a range issue as well? I just have a hard time envisioning a work truck without a spare tire. That could prove to be a real inconvenience.
The lesson here is that if I'm driving a Tesla, I'm going with the projected mile reading, no matter the max mile claim. The problem, of course, is that on Tesla's website and elsewhere, that max range claim stands out like the image of their behemoth pickup, neither of which I can take seriously.