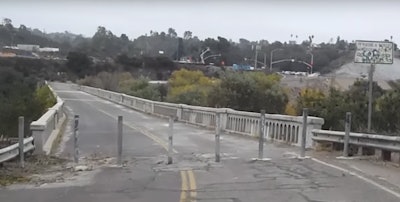 You shall not pass! Allegedly haunted Bonsall Bridge in San Diego County closed nearly 30 years ago. Photo: MSabelis1 YouTube
Trucks, bridges and overpasses has a Planes, Trains and Automobiles ring to it.
Lord knows the drama is there along with a comedy of errors. It doesn't take long to find plenty of stories on trucks striking low overpasses or ending up on small bridges that were never intended to support them (truck-ignorant GPS devices and unwitting drivers largely get credit on that last one).
In Southern California, where I grew up, the infamously narrow Bonsall Bridge along State 76 near Bonsall and Fallbrook proved to be especially harrowing. Set among rolling, brush-covered and tree-dotted hills, the bridge handled traffic coming mostly from bustling Interstate 15 to cities like Vista, Carlsbad and Oceanside. Undoubtedly, some traversing the 625-foot span, including a newly licensed driver like me, wondered if they'd get side-swiped on the shoulderless nerve wracker.
Crossing it with a big rig heading in the opposite direction would really put you on the edge of your seat. Deck width is only 21 feet. Stories abound about accidents there. Some claim it's haunted. I can remember looking at fresh concrete work along those old, ornate barriers (all they needed were little gargoyles) and wondering if some unlucky driver had taken the plunge 129 feet down to the St. Luis River.
Opened in 1925, the concrete behemoth, which features sweeping and attractive open-spandrel arches, was eventually closed to vehicle traffic in 1990 and turned into a pedestrian crossing and photography hot-spot. Another bridge built nearby is a comfortable 41 feet wide. Engineers deemed the Bonsall Bridge to be structurally sound—it was just too narrow and never designed to handle today's larger vehicles.
Not so for the Brooklyn-Queens Expressway. Transportation officials there say sections of the 50-plus year old elevated highway, also known as I-278, are so unstable that trucks are going to have be banned from traveling it.
To get around a ban, Department of Transportation officials are hoping that legislators will fast-track a reconstruction project.
"If we don't get this completed in 2026, we're going to have to limit the weight that the bridge can carry," DOT Commissioner Polly Trottenberg told the New York Post."If this project isn't done, we're going to be diverting trucks."
That means diverting trucks into nearby neighborhoods, like Brooklyn Heights, an affluent area. Traffic, which has already been a big headache for residents there, would only get worse.
Other reconstruction bills have failed in the past. But, recent truck ban news like that from the DOT has definitely built a bridge to concerned and influential voters. State Sen. Marty Golden announced that he'll be introducing a new reconstruction bill as soon as possible.
Suddenly, crossing the old Bonsall Bridge doesn't sound so bad anymore.