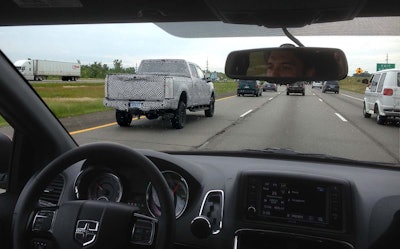 They're everywhere. We've seen a lot of them testing in Death Valley, an "unauthorized" pre-production photo showed up on Jalopnik, and they can be seen running all over the Detroit/Dearborn area.
Yes, I'm talking about the 2017 Super Duties.
During a visit to Detroit a few weeks ago a 2017 Super Duty – I think it was an F-250 – whipped by in the fast lane headed back to Ford Knox.
It was clad in full camouflaged body wrap. But even so, it was clear to see the twin tailpipes of a gas engine protruding from under the bed, and it appears the cab is very similar in shape to the current F-150. The Super Crew even has what appears to be a rear spoiler.
My speculation is the 2017 Super Duties will dump the 6.2L gas motor for either the new-and-improved 385hp 5.0L Coyote V8 or the 365hp 3.5L EcoBoost V-6 as the base engine, although Ford has not squeaked a word as to what will be in its next-gen heavy-duties.
My best guess is it'll be the 5.0L because HD buyers favoring gas over diesel tend to eschew V-6s when it comes to towing the types of trailers a Super Duty would be doing on a regular basis. The Coyote V8 has plenty of muscle and would get better mpg than the EcoBoost when put under the stress of being worked hard day in, day out.
The encouraging aspect of the 5.0L as the base engine is the next Super Duty body will be aluminum like its 1/2-ton sibling.
If the F-150 shed nearly 700 pounds making the switch in body and frame materials, I'd think the Super Duty could shed closer to 900 pounds comparing like models.
The 5.0L would perform well with that kind of improvement in horsepower-to-weight ratio.
I'd also think Ford will not stand idly by being the second most powerful diesel on the big-truck block.
The 6.7L Power Stroke has more left on the table and Big Blue will most likely be pushing the torque envelope past its rival Ram's 900 lbs.-ft. number in 2017.
Will we see Ford pushing it to 450hp and 950 lbs.-ft.? Today's diesel engine technology makes such power numbers entirely possible.
When I asked one of my Ford contacts about the new truck, all he said was, "You know we can't comment on future product."
So we'll have to wait until the camo comes off to see exactly what lies beneath. Whatever it is, it'll be good for the work truck and RV customers – bad for the competition.