Barrett-Jackson auctions are a car guy's heaven. Well, a rich car guy.
Some of the most exotic and rare cars in the world drive across the stage and many fetch hundreds of thousands of dollars.
The 3rd Annual Hot August Nights Auction presented by Barrett-Jackson will feature a selection of unique custom trucks at the Reno-Sparks Convention Center, Aug. 6-8. Below is just a sampling of the pickups expected to hit the block in August, and you can bet there will also be some heavily customized and restored sports cars mixed in, too. I mean, hey, it's a Barrett-Jackson auction.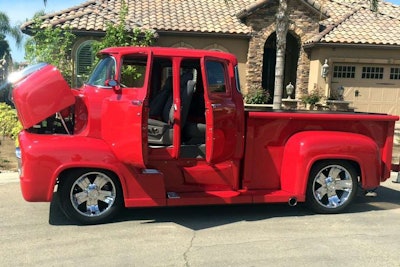 1956 Ford F-600
This '56 Ford F-600 custom pickup is a full in-house custom build that started life as a single-cab 22′ flatbed F600.
It's now on a pickup frame with a 4-door cab and features 502/502 horsepower, TH400 transmission, over-under gear vender, full EMT air conditioning unit, full blow-your-mind stereo setup complete with 5-screen DVD, big back window cab, custom-built roll-up bed cover, four 2005 Denali bucket seats and Swedish leather.
Click here to see the full specs and gallery.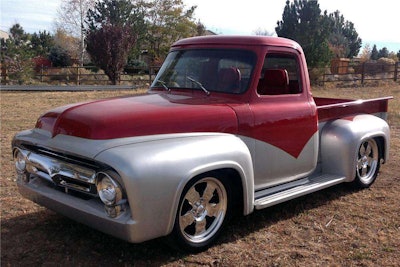 1954 Ford F-100
This 1954 Ford pickup truck is a totally off-frame custom rotisserie restoration.
The engine is a new Ford Racing 302ci crate V8 with all additional parts and equipment in chrome, including March serpentine pulleys, complimented by stainless-steel inner fender panels installed on the firewall.
It has a new independent air ride front suspension and triangular air ride in the rear, atop a frame that has been boxed with tubular cross bracing added for strength, providing an incredibly smooth ride.
Click here to see the full specs and gallery.
1964 Chevy C-10
With only 1,700 miles since its rotisserie restoration, this custom C-10 pickup features many high-performance upgrades, as well as air conditioning.
It boasts a full roller small block engine, aluminum heads, Eagle internals, MSD ignition system with MSD distributor and spark boxes.
This custom pickup also has a new-built Powerglide transmission with 3400 Stall Yank converter. It won "Editor's Choice" at Goodguys in Orlando and "Best Engineered" at the NMCA Nationals.