GM 2.8L I-4 Duramax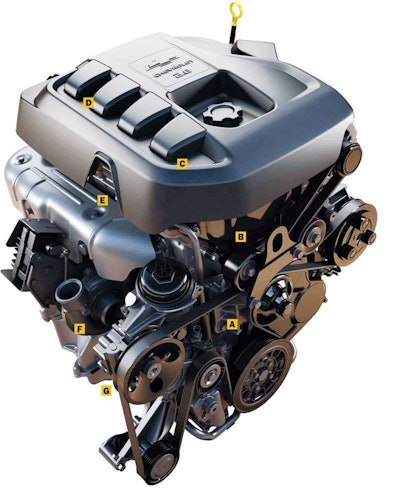 General Motors' inline-four 2.8L Duramax is already used overseas in a wide range of vehicles, so the transition from world market to the U.S., under the hood of 2016 Chevy Colorado and GMC Canyon pickups, is an easy one.
The direct-injected, dual-overhead-cam (DOHC), 16-valve engine's specs, based on the global offering, say it makes 180hp at 3,800rpm, while generating 325 lbs.-ft. in torque at 2,000rpm.
Those numbers will probably be close to what the U.S.-spec engine produces. The actual specs will become available as it gets closer to when GM unveils the 2016 model Colorados/Canyons in mid- to late-2015.
GM 4.5L V-8 Duramax
If GM blows the cobwebs off the 4.5L Duramax V-8 to power the next-generation Silverado/Sieraa 1500s, it'll probably be a DOHC, 32-valve with variable-vane turbo model making more than 310hp and 520 lbs.-ft. torque.
That's the same diesel they were all set to put into the 2009 1500s and Hummer H2s before the economy nose-dived.
The "original" Duramax small-block V-8 was touted as having aluminum heads and integrated exhaust manifolds to keep its size the same as that of the then 5.7L gas V-8.
The 2017 variant, if there is one, would most likely feature the new diesel-era composite graphite block (CGI) and aluminum heads, a variable-vane turbo with direct-injection, along with other technology that's evolved with it's 6.6L big brother.
GM works with engine suppliers both here and overseas with Isuzu being the latest global partner. So there may well be another diesel being prepped for use in the 1500s. It could be a V-6 or V-8.
Only time will tell how they re-enter the 1/2-ton diesel market. But we think it's a given.
CLICK LOGOS FOR MORE DIESEL ENGINE DETAILS