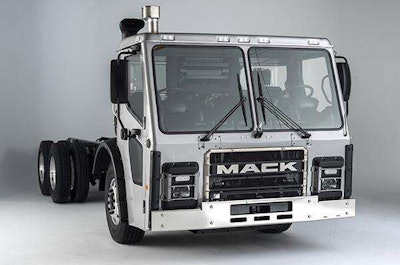 Mack Trucks Tuesday previewed its new Mack LR series of low-entry cabover refuse trucks.
Initially available in three-axle 6×4 configurations and powered either by diesel or natural gas, the Mack LR series will be available in 2015.
Mack says it used customer input during the design and engineering phases of the LR series.
"The Mack LR series showcases what Mack does best – building rugged, robust trucks to the exact specifications of the application and the customer," says Stephen Roy, president, Mack Trucks North American Sales and Marketing. "The new cab will be configured to improve driver comfort and productivity, while also maintaining the excellent maneuverability identified with Mack refuse models."
Designed with body builders in mind, the LR offers additional access points and mounting locations for wiring, controls, and joysticks. The LR series cab's enhanced driver environment will include tilt and telescopic steering, power windows and door locks, memory mirrors, in-dash air-conditioning, standard in-cab LED lighting and an instrument cluster with color LCD display. Steering column-mounted main gauge pods for both the right-hand and left-hand driving positions will enhance driver visibility and improve ergonomics, Mack says, and the truck features a centrally mounted radio and HVAC controls, accessible from both driving positions.
The LR series cab also will feature center storage for lunch coolers, two-liter bottles, beverage cups, mobile phones and MP3 players. A rear-wall unit offers two additional levels of storage, and large cab doors make driver ingress and egress easier.
The Mack LR model will be spec'd with a Mack MP7 11-liter diesel engine with 325 to 345 horsepower and torque ratings from 1,200 to 1,280 lb.-ft. The Cummins Westport ISL G natural gas engine will also be option. All LR models are will be equipped with an Allison RDS five-speed or six-speed automatic transmission.
The LR series will be available with left-hand drive, right-hand drive, dual-drive and left-hand drive/right-hand stand-up drive configurations.