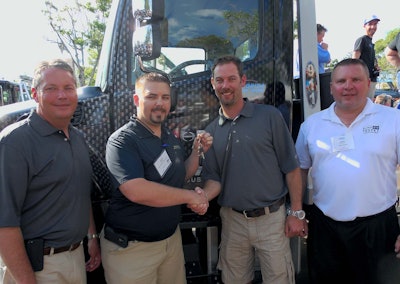 One lucky tow operator recently walked away with a fully loaded 2014MY Hino model 258ALP with a Century 12 Series LCG Carrier, thanks to a giveaway sponsored by Hino Trucks and Miller Industries.
The truck was part of a benefit for The Professional Wreckers of Florida (PWOF) Education and Legislation Programs.
This year's winner, Aaron Farron of Sprint Towing from Jacksonville, Fla., is co-owner of the family-owned business.
"I am so excited for the opportunity to introduce another Hino into our fleet," he says. "We already have four Hino 258s in our fleet."
The promotional truck travels across the country to various towing events and PWOF meetings promoting education and safety to independent wrecker operators.
"We certainly want to congratulate Aaron, and we want to thank Miller Industries for partnering with Hino and the PWOF for the past several years," says Gary Mickiewicz, Vice President, Eastern Region Sales for Hino Trucks. "This collaboration is an opportunity for Hino to support the PWOF organization and their efforts to advance the towing industry."
The Hino 258ALP model roll back has a unique design and the Century 12 Series LCG Carrier is a patented design that allows the carrier deck to be mounted 5 – 6 inches lower than comparable units providing a lower load angle, better stability, increased safety with the operator being able to secure the load from the ground and the ability to transport taller loads.