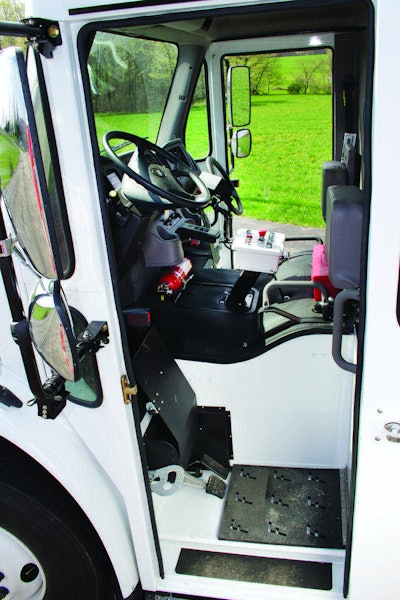 Fontaine Modification Vocational Services says it will showcase three of its latest cab modifications for refuse/recycling fleet operators at WasteExpo 2014, April 29 through May 1, in Atlanta, Ga. Vehicles featuring different Fontaine steering conversions will be on display in the Freightliner Trucks and GSP Marketing booths.
In the Freightliner booth, a refuse truck built for curbside pickup has a stand-up right-hand drive package. The standing position on the right side features additional pedals, gauges and a second steering wheel, enabling the driver to quickly step out at each stop. A folding jump seat on the right allows the driver to sit on the way to and from the collection route. To accommodate efficient in-and-out operation, the right-side door features a bi-fold design, grab handle and ManSaver door guard.
The stand-up driving features are duplicated on the left side of the MP8000/M2-106 multi-purpose collection truck in the GSP Marketing booth. The dual stand-up drive option was developed through a partnership between Fontaine Modification, Fyda Freightliner and GSP Marketing, Inc. Dual stand-up driving capabilities allow two operators to efficiently collect and load material from both sides of the route. This eliminates the need to send out a three-person crew with a dedicated driver, providing significant labor savings.
The GSP Marketing booth will also include a truck modified with Fontaine's sit-down dual-drive steering option, ideal for drivers who need to see the curb, but do not frequently exit the cab. It is commonly used for automated side-loading collection and street sweeping. The package includes complete driving stations on both sides of the vehicle.
The Freightliner Trucks (#1022) and GSP Marketing (#1328) booths at WasteExpo are located next to each other on the trade show floor.