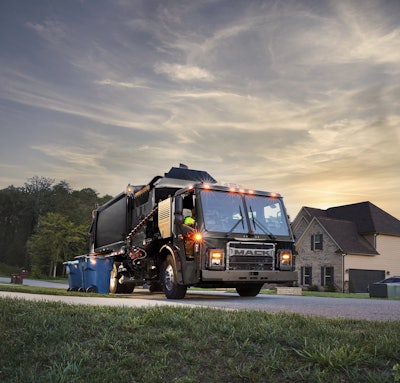 According to the 2020 U.S. Census, the population of my town is about 7,100. I think a few people were counted twice, and there might be a few of the undead in there too because Demopolis, Alabama, feels a lot smaller than that.
If you cruise through any parking lot – from Walmart to Marvin's, which are at opposite ends of town – on any given day, do you know how many electric vehicles you'll see? Zero.
You can't get from one end of this town to the other without traveling on U.S. Highway 80, and I feel pretty confident that if there was an electric vehicle in this town, I'd have seen it by now. In larger towns – like Birmingham, Tuscaloosa and especially Huntsville – it's not uncommon to see a battery electric, but it's still uncommon enough to make you stop and say, "Hey look at that!"
Now Mobile is adding itself to the list.
In Alabama, we refer to Mobile as "the beach." It's like calling any canned soft drink "Coke." You just have to figure out the details, but we know what we mean.
The City of Mobile last month ordered a Mack LR Electric Class 8 refuse vehicle – the first electric vehicle to operate in its fleet of 26 refuse trucks and the first electric LR in the state.
Mobile, with a population of 187,000 as of the 2020 Census (people love living at 'the beach'), got funding from the Volkswagen lawsuit settlement and plans to seek grants to help with the purchase of charging stations and the development of a comprehensive electric vehicle plan, said Mobile's Chief Resilience Officer Casi Callaway.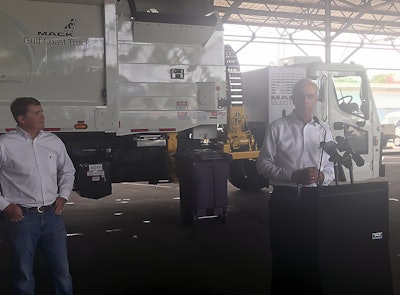 Alabama joins California and New York (of all places) and a handful of other states on the electric trash route, and orders for the electric LR have poured in from pockets all over the U.S.
Four NMC (Nickel Manganese Cobalt Oxide) lithium-ion batteries, charged through a 150 kW, SAE J1772-compliant charging system, power the Mack LR Electric model and all onboard accessories through 12V, 24V and 600V circuits. Twin electric motors produce 448 continuous horsepower and 4,051 lb.-ft. of peak torque output from zero RPM. The two-stage regenerative braking system helps recapture energy from the hundreds of stops the vehicle makes each day with an increasing load.
The cab of the LR Electric model features a copper-colored Bulldog to signify its all-electric powertrain. The same driver- and passenger-side configurations, as well as seat and door options, are available for the Mack LR Electric as those that are offered in the diesel Mack LR model. The LR Electric can be fitted with bodies from various manufacturers to meet each customer's unique set of needs.
The City of Mobile's Mack LR Electric will be equipped with an automated side-loader and will operate in residential areas. Mobile is investing in a Portable Superfast DC Charger. Callaway said a portable charging station will enable the City to test different locations and serve as backup support once permanent charging stations are chosen and installed. The City of Mobile's LR Electric model will be supported by Gulf Coast Truck & Equipment Co.
Despite being home to an important NASA installation (Marshall Space Flight Center in Huntsville has delivered propulsion systems and hardware and launch vehicles for almost 60 years), Alabama hasn't been widely known to embrace the cutting edge – until now. Mobile – at the opposite end of the state from Huntsville – is giving beachgoers a reason to say, "Hey look at that!"