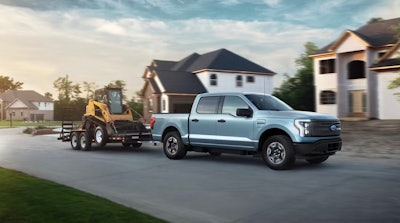 Ford
Current economic strife and ongoing supply chain challenges led major U.S. auto manufacturers this week to ask Congress to throw out the limit on the number of consumers that can benefit from federal tax credits through electrified vehicle purchases.
Currently, the first 200,000 consumers per OEM can receive tax credit following the purchase of an all-electric or plug-in hybrid vehicle (PHEV).
In a two-page letter on Monday, Ford CEO Jim Farley, GM CEO Mary Barra, Stellantis CEO Carlos Tavares and Toyota CEO Tetsua "Ted" Ogawa asked Democrat Senate leader Charles Schumer, Republican Senate leader Mitch McConnell, Democrat House Speaker Nancy Pelosi and Republican minority leader Kevin McCarthy to lift those limits on electrified vehicle tax incentives.
"To provide greater consumer choice, we ask that the per-OEM cap be removed with a sunset date set for a time when the EV market is more mature," states the letter signed by Farley, Barra, Tavares and Ogawa. "Eliminating the cap will incentivize consumer adoption of future electrified options and provide much-needed certainty to our customers and domestic workforce."
The four automakers point out that collectively they'll be spending over $170 billion through 2030 to develop and market electrified vehicles and that they'll need additional government assistance to attract more buyers.
"The tax credit has allowed auto companies to offer more affordable products in greater volumes, helping accelerate the adoption of EVs," the four leaders write. "However, recent economic pressures and supply chain constraints are increasing the cost of manufacturing electrified vehicles which, in turn, puts pressure on the price to consumers."
Farley, Barra, Tavares and Ogawa also warn of increasing competition from China and Europe.
"The coming years are critical to the growth of the electric vehicle market and as China and the EU continue to invest heavily in electrification, our domestic policies must work to solidify our global leadership in the automotive industry," the letter continues. "By removing the per-OEM cap provision in the EV tax credit, Congress will ensure that the U.S. continues to be a leader on EV innovation and production."