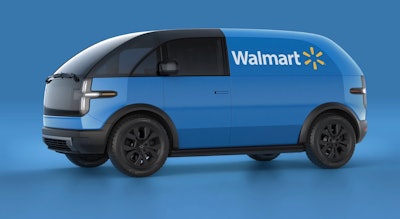 Canoo
Electric vehicle startup Canoo just got a big boost from retail giant Walmart which announced plans this week to purchase 4,500 of the company's delivery vans.
Walmart plans on using Canoo's Lifestyle Delivery Vehicle (LDV) to deliver online orders as part of its goal to reach zero-emissions by 2040. The contract includes an option to purchase up to 10,000 of the battery-powered vans.
While the LDV is expected to roll out in 2023, the companies plan to kick-off advanced deliveries to refine and finalize vehicle configuration in the Dallas Fort Worth metroplex in the coming weeks.
The LDV is engineered for high frequency stop-and-go deliveries and speedy vehicle to door drop-off, including grocery and food/meal delivery. Its customized interior is designed for small package delivery, at competitive per stop economics. The modular design and 120 cubic feet cargo volume are adaptable to evolve with customer needs which contributes to a decreasing per unit investment over time.
"We are proud to have been selected by Walmart, one of the most sophisticated buyers in the world, to provide our high-tech, all-electric, American made Lifestyle Delivery Vehicle to add to their impressive logistics capabilities," said Tony Aquila, chairman and CEO of Canoo which is based in Bentonville, Ark.
"Walmart's massive store footprint provides a strategic advantage in today's growing 'Need it now' mindset and an unmatched opportunity for growing EV demand, especially at today's gas prices," Aquila continued.
The LDV has a tight turning radius comparable to a small car with the payload and cargo space of a commercial delivery vehicle.
"This is the winning algorithm to seriously compete in the last mile delivery race, globally," Aquila said.
David Guggina, senior vice president of innovation and automation at Walmart U.S., welcomed Canoo to their expanding zero-emission fleet.
"We're thrilled to continue diversifying our last mile delivery fleet with Canoo's unique and sustainably focused all-electric technology which will provide our associates with safe, ergonomic delivery vehicles," Guggina said.