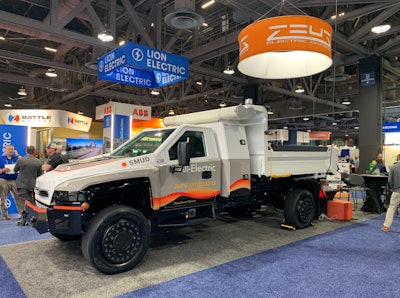 Tom Quimby
Zeus Electric Chassis announced that they've received an executive order from the California Air Resources Board (CARB) for their model year 2022 Z-19 and Z-22 all-electric work trucks.
The Zeus Z-19 and Z-22 are all-electric cab-chassis is designed to provide a severe-duty solution for vocational fleets transitioning class 5 and 6 diesel vehicles to zero-emission.
Zeus reports that their holistic design of the Z-19 and Z-22 started with an understanding of the total cost of ownership (TCO) over the life of the asset. The Zeus cab-chassis is configurable to accommodate existing OEM bodies and is built to out-perform diesel counterparts and increase long-term return on equity of the work truck.
CARB's executive order is a written documentation of compliance with CARB regulations for vehicle emission standards, awarded to manufacturers for specific vehicle models and production years. Vehicles may be sold in California only if they have been awarded their EO after review by CARB. Zeus was issued EOs A-485-0001 and –0002 for the Z-19 and Z-22 on February 22, 2022.
Zeus announced in December 2021 that the Z-19 and Z-22 were in receipt of their EPA Certificates of Conformity, another essential milestone demonstrating regulatory compliance.
With these credentials in hand, and upon further review by CARB, the 2022 Zeus Z-19 and Z-22 have been included as eligible vehicles for California's Hybrid and Zero-Emission Truck and Bus Voucher Incentive Project (HVIP). On March 30th the HVIP program released access to over $400M in voucher incentives for zero-emission vehicles. The class 5 Z-19 is eligible for a $60,000 voucher and the class 6 Z22 is eligible for an $85,000 voucher. These incentives can be stacked with other local or federal funding initiatives.
"Obtaining our EO and becoming a participant in the California HVIP program are critical milestones in our business development roadmap" said Jim Steffes, Vice President of Sales and Dealer Development for Zeus. "The HVIP program is important as it incentivizes the transition to electric vehicles in the commercial transportation market. We're pleased that customers interested in a Zeus chassis can now take advantage of this funding opportunity in California."