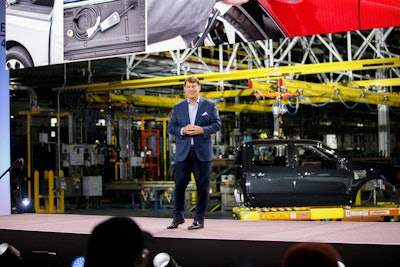 Ford
Today at Ford's historic Rouge Complex, Ford CEO Jim Farley made a little history himself by announcing another electric pickup and an ambitious goal of becoming the largest EV manufacturer in the world.
Currently, China-based BYD, which builds and sells commercial EVs in North America in addition to other locations around the world, holds the title of of world's largest EV maker. Ford does have an edge since BYD does not sell electric pickups in the U.S., one of the globe's hottest truck markets where F-Series sales have dominated for the last 45 years.
The announcement of an additional electric pickup from Ford of course provides the company with additional leverage as they gear up to build 150,000 F-150 Lightnings annually at Rouge which Farley said underwent two expansions to accommodate a surge in demand.
Farley would not elaborate on their next electric pickup and instead only offered up that their all-new mega campus, BlueOval City, in Stanton, Tenn. will be building "another electric pickup truck that's different than [the F-150 Lightning]."
Both Farley and Ford Executive Chairman Bill Ford view zero-emission Lightning as a pivotal moment for Ford, pickup owners and the planet.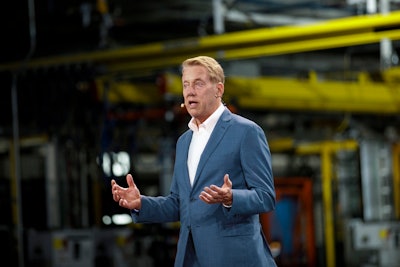 "This moment is as every bit important to this company and to this country as when the Model T first started rolling off the assembly line," Ford told a crowd of UAW workers and guests inside the Rouge plant where Lightning's being built. "Back then, we were the first company to bring automobiles to everybody. Now, we're the first company to build electric trucks for everybody way ahead of anyone else. This truck is going to change everything. It has capabilities that no one has ever seen."
Farley pointed out some of those capabilities including the truck's "instant torque and incredible acceleration. Zero to 60 in four seconds—that's super car category.
"And it tows with ease," Farley continued, "like there's nothing behind you. And the ride's so smooth, you'd swear you were in a Lincoln. You won't believe this is a truck."
Farley also played up Lightning's exportable power which maxes out at an impressive 10kW.
"How about ripping 20,000 sheets of plywood with your circular saw with one charge? 20,000 sheets," Farley said. "Or an off-grid wedding in Yosemite. Or a block party that lasts a weekend and the next week. You can even charge other EVs for your friends that own Teslas. We're going to find a whole lot of crazy uses for that 10 kilowatts that we never imagined."
When announced in September, BlueOval City was described a mega complex that "will be constructed on a nearly 6-square-mile site in west Tennessee and build next-generation electric F-Series pickups and advanced batteries."
Looks like there may be no plans at this point for an electric Maverick or a return of the short-lived electric Ranger from the 90s.