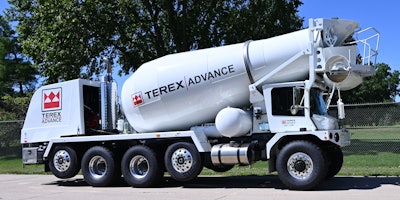 Cummins on Thursday said it has signed of a Memorandum of Understanding (MoU) with Terex Corp. subsidiary Terex Advance Mixer Inc., Edge Materials and PCC Hydrogen to produce, trial and prove concrete mixer trucks powered by Cummins' zero-carbon, hydrogen fueled internal combustion engines.
The four-company collaboration will spearhead a complete and viable approach to decarbonizing mixer trucks, without impacting vehicle performance and the project aims to develop a full hydrogen eco-system with a hydrogen producer, vehicle manufacturer and end user. Cummins' X15H hydrogen internal combustion engines (ICE) will be integrated into the Terex Advance Commander Series of front-discharge concrete mixer trucks. Edge Materials, LLC, a ready-mix concrete provider and Terex Advance customer, will operate the hydrogen-powered trucks in real-world environments, including on construction sites and infrastructure projects. PCC Hydrogen, an ultra-low carbon intensity hydrogen producer based in Louisville, Kentucky, will supply the hydrogen fuel as well as stationary storage and dispensing services.
While Cummins is investing in a range of power options to support decarbonization, Cummins' General Manager of Hydrogen Engines Jim Nebergall said hydrogen internal combustion engines "are emerging as a key technology to eliminate carbon emissions from heavy-duty sectors, while retaining the power density and operational range typical of diesel engines. This collaboration represents an end-to-end demonstration of how hydrogen internal combustion engines work practically in tough applications using real trucks, real infrastructure and real end-users."
Decarbonizing concrete mixer trucks can be difficult due to the energy demands and long operational hours, but Terex Advance Mixer General Manager David Grabner said this project "marks a significant milestone in our decarbonization journey, as Cummins' X15H engines introduce an alternative, zero-carbon emissions option for our customers, while providing the performance our trucks need to get the job done."
Using proven internal combustion engine technology, Cummins' hydrogen engines use zero-carbon hydrogen fuel rather than traditional diesel. They are similar in architecture to modern diesel and natural gas-powered engines, yet offer heavier-duty, longer-range applications a route to decarbonize without major changes to vehicle designs and at a lower upfront cost than current zero-carbon alternatives.